Biography:
Carolyn is an Equine Science graduate who worked with competition horses in the equine industry, and then in retail, before joining the Administration Team at Burleigh Travel in 2004. She has since taken on responsibility for our popular junior Dutch Holiday Park tours, as well as a number of our international destinations, and has been lucky enough to visit the majority of the countries she looks after tours for, either with one of our groups or on holiday. Carolyn also coordinates our UK coach and ferry bookings across all UK and European destinations.
Carolyn says she particularly enjoys working with touring teams who are embarking on international tours to help them achieve a trip of a lifetime by assisting with booking trips and activities to enhance their touring experience. Her own trip of a lifetime came in 2011, when she visited South Africa for the second time, and she feels it will be a number of years before she is able to top the experience of that trip!
Carolyn was a keen hockey player for several years including a stint captaining her team, and has ridden horses since she was six years old. Since retiring from hockey and being without the chance to horse ride regularly, she now spends her free time cycling where she is always on the lookout for new challenges, as well as gardening where she enjoys attempting to grow her own vegetables!
Favourite Sports Tour Destination
"Canada fantastic sporting ethos and great hospitality. Outside of fixtures, theres loads to do, from the CN Tower to Niagara Falls, shopping to white water rafting, theme parks, to a day on the beach. Add the great climate during the playing season and its my favourite place to tour!"
Most Memorable Sports Tour Experience
" In 2007, I accompanied Barnstaple RFC U16 on tour to Toronto. This was the culmination of two years fundraising by the group to enjoy their last tour together as a team and to not only organise this for them, but to be able to enjoy the tour with them as well was an amazing experience."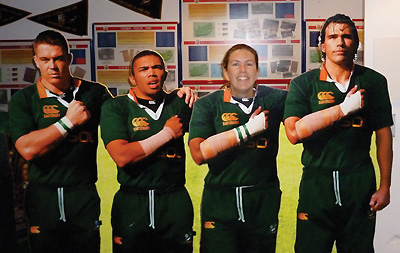 Carolyn at Newlands Stadium, Cape Town
Carolyn on Mont Ventoux, Provence, France
Fact File:
Nickname: Caz
Favourite Sport (s): Equestrian, cycling, rugby union
Best Achievement: Cycling up Mont Ventoux 4 weeks before Chris Froome won the Bastille Day stage of the Tour de France at the summit in 2013
Favourite Sports Team: Leicester Tigers
Favourite Sports Personality: Mary King (3-day event rider), Lewis Moody
Countries Visited: South Africa, Canada, USA, Dubai, Barbados, France, Belgium, Ireland, Germany, Holland, Spain, Spanish Islands, Portugal, Italy, Greek Islands, Canary Islands, Jersey, Latvia, Sweden, Denmark
Random Fact: I have a Blue Peter Badge, which I won when I was about 8 or 9 for making a Christmas Card
Carolyn's Burleigh Travel Inside Line:
Take the opportunity to try something new, even if its outside your comfort zone.