Biography:
George has recently joined Burleigh Travel having previously worked for two companies highly focused on customer service. Having grown up being heavily involved in sport and interested in travel, George saw a perfect opportunity to incorporate his passions with his career.
Georges main sport has always been football. When he was younger he played for Cirencester Town and represented the Stroud District schools. More recently he has been playing for Chalford AFC. George also had a spell playing basketball for Stroud Sharks and Gloucester Jets alongside playing for the South West regional team. He then went on to coach the South West team winning tournaments in Belgium and Sweden as well as leading Stroud Sharks to its highest ever finish in a national competition.
George's interest in travel started when he had the opportunity to play in a number of tournaments for the South West regional team across Europe. George then took some time to travel across Thailand after college and is keen to explore more destinations in the future.
Favourite Sports Tour Destination:
"Belgium " fantastic facilities for all sports mixed with a wide range of culture."
Most Memorable Travel Experience:
"Kayaking down the Ping River, Chaing Mai, Thailand. "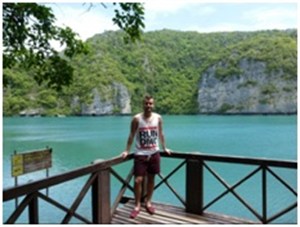 Holiday in Thailand, Mu Ko Ang Thong National Park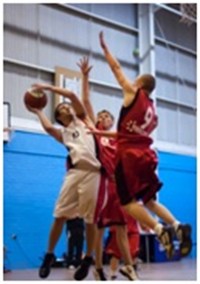 George (white) playing for Gloucester Jets
Fact File:
Nickname: Shep
Favourite Sport: Football
Best Achievement: Sport related – winning a tournament in Belgium with the South West regional squad. Non-sport related " My son, Oscar
Favourite Sports Team: Birmingham City
Favourite Sports Personality: Anthony Joshua
Countries Visited: Thailand, France, Spain, Portugal, Sweden, Belgium, Czech Republic and Ireland.
Random Fact: I once coached against the former GB and LA Lakers player, Steve Bucknall.
George's Burleigh Travel Inside Line:
"Dont just think about it, experience it!"