Isobel Whitehouse
Burleigh Travel Sports Tour Administrator
Isobel Whitehouse
Biography:
Isobel is a new member of staff at Burleigh Travel, joining us in June 2018. She contacted our company to do work experience whilst completing her last year of college studying for a diploma in Business Studies. Isobel really enjoyed her work experience with us, particularly as she had been wanting to work in the travel industry for several years. The work experience was successful and she was lucky enough to be offered a full-time job here at Burleigh Travel, in our administration department.
Isobel has participated in a number of sports since childhood, such as Gymnastics, Tae-Kwon-Do, Netball, Football and Swimming. She enjoys watching ice hockey at the Swindon ice-rink as the Wildcats are her favourite team. Whilst working in this industry, Isobel hopes to gain more knowledge about different counties.
Favourite Sports Tour Destination
"My most memorable travel experience had to be either Greece or Bulgaria. I enjoyed Greece because of the see-through blue sea, the views were outstanding and me and my family got to stand on an unerupted volcano! However, I loved Bulgaria's culture and traditions which was exciting to experience as they are very different to England's traditions. Also the food in Bulgaria tasted so fresh and it was filled with flavour."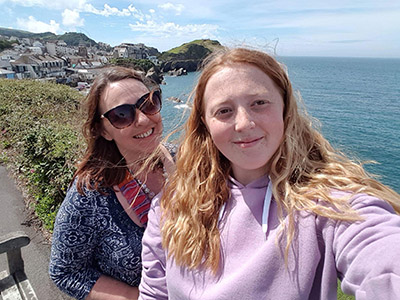 Isobel (on the right) enjoying the beautiful North Devon Coastline, Ilfracombe
Isobel started Tae-Kwon-Do from a young age
Fact File:
Nickname: Iz
Favourite sport: Swimming/ Badminton/ Dancing
Best Achievement: Passing my driving test
Favourite Sports Team: Liverpool
Favourite Sports Personality: Steven Gerrard
Countries Visited: Menorca, Spain, Greece and Bulgaria
Random Fact: I have stood on a volcano before