Burleigh Travel's Top 5 Hockey Tour Destinations
Following Team GB's fantastic Gold Medal victory over the Netherlands at Rio 2016 we are looking at some of the top hockey tour destinations around the world. With over twenty years experience as a sports tour operator we have picked five of our most popular and recommended destinations for hockey tours.  
Lloret de Mar in the Catalonia region is one of our most popular Spanish destinations. Located on the coast it is known for it's beautiful Mediterranean beaches. The main beach in the city is Playa de Lloret, which is a mile-long and has a promenade full of shops, bars and restaurants. It is also only an hour from Barcelona so be sure to spend a day exploring the wonders that it has to offer. 
Hockey is played throughout Spain, and many of the teams boast fantastic facilities. Extremely friendly and welcoming in their hospitality expect a fierce competition on the pitch. With our extensive knowledge of the area we tailor your hockey fixtures to your team to ensure you get the most of your matches. 
"We had an absolutely fantastic tour. The club that hosted us were incredibly friendly and a truly high class outfit. The accommodation was in an ideal location, close to the beach and local nightlife. Throughout our stay the staff were friendly and understanding, and the pool was great. Burleigh Travel were professional, courteous and communicative." - University College London Hockey tour to Spain 
With half of it land below sea level and famed for its tulips, windmills and rivers Holland offers something for every age group and tour type. Our school and junior tours are based in holiday parks which offer security and on site activities to ensure your team stay entertained throughout. For senior and university sides Amsterdam is the obvious choice. Europe's party capital there is always something happening in this city.
Holland's national team is one of the most successful in the world and this success has filtered down to club and school level. With fantastic facilities and a wonderful reputation as hosts Holland is a brilliant choice for your next hockey tour.
"We had a fabulous time. The accommodation was perfect, we went swimming, played bowling, mini golf, and hired bikes. The time went too quickly and the hockey almost got in the way! The matches were great and the teams so sociable, we hope to host one next year. The tour was a great experience for the girls and has inspired them to want to do another." - Ryde School Hockey tour to Holland
We offer a range of destinations for our hockey tours to Germany; Berlin, Cologne and Hamburg. Berlin has developed into one of Europe's cultural hubs which can cater for all ages and group types. It is a unique mix of open green spaces and iconic architecture. History lovers will be overwhelmed by the sites such as the Reichstag, Berlin Wall and BrandenBerg Gate, while those looking for a more social scene will be spoilt for choice with the countless bars and clubs that sometimes stay open for days instead of hours. Cologne is home to some stunning Gothic architecture and is regularly voted the country's single most popular tourist attraction. But is it is also a vibrant city with beer halls along the Rhine and some fantastic bars and restaurants.
The German national hockey team is one of the most successful sides in the world. This is due to an impressive set up at both school and club level. This ensures that we will be able to cater for all abilities and ages when organising fixtures.
"The service from Burleigh Travel was great. I would just like to mention how fantastic the host teams were as they went over and above any expectations and were lovely people to socialise with, making us all feel very welcome." - Strathclyde University Hockey tour to Germany
Australia is one of the most popular tourist destinations in the world. With nearly endless summer weather, golden beaches and lush blue oceans it is easy to understand why. But combine this with its unique outback landscapes and animals (kangaroo, koala bear and duck billed platypus), world famous cities, stunning architecture and, of course, the Great Barrier Reef Australia has to be at the top of anyone's list when planning a hockey tour.
We have a number of locations for your tour such as Melbourne, Sydney, Perth, Brisbane and Cairns. Each will offer a very different tour experience, and you can combine as many as you wish. Sydney, for example, is home to some of the world's most famous landmarks such as the world famous Opera House and the Sydney Harbour Bridge (which if you feel brave enough you can climb for epic views of the city).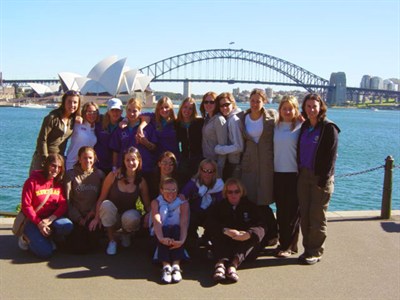 Australia has one of the most successful national teams. Their men's side are the only Australian team in any sport to receive medals at the last six Summer Olympic Games (1992–2012), and have placed in the top four in every Olympics since 1980. Hockey is of the most popular team sports, with a very competitive league in both male and female sides. With our extensive knowledge and experience in organising tours we will ensure that your fixtures are tailored to your team.
"I can safely say that the Sports Tour to Australia that you organised for us was the best trip I have ever had the privilege to experience. This is solely due to the smooth organisation and running of the trip that took the entire burden off of the Chew Valley staff." - Chew Valley Rugby and Hockey Tour to Australia
The island of Malta is still one of Europe's hidden treasures in terms of a holiday destination. It's 300 days of sun a year and the fact it is surrounded by some of the clearest blue seas in the Mediterranean would make it a perfect tour destination alone, but add in some of the best snorkelling and diving in the Mediterranean, its welcoming culture, fantastic food and unbelievable history and you have a tour destination not to be missed.
Malta's unique selling point must be its history. It has the greatest density of historic sights then any other country spanning 7,000 years. These include unique prehistoric temples, some of the oldest stone buildings in the world, Roman catacombs, medieval towns, and the extraordinary architectural and artistic legacy of the Knights of St John. But don't worry the Island isn't stuck in the past! Malta is swiftly becoming one of the major clubbing and music hubs, with a range of bars and nightclubs open throughout the week. It has grown to such an extent that many of these clubs now often play host to some of the world's most renowned DJs. 
Hockey is a growing sport in Malta. At the moment there are five senior clubs on the island and a national side. The facilities are ever improving and the standard is high. A hockey tour to Malta is not only a great experience for your team but also has a huge impact on the future development of the sport in the country as the local teams have a chance to play new teams and promote the sport.
"Thank you so much for organising our hockey club summer tour to Malta this year, we had an incredible time. The trip was everything we had hoped for and more. Burleigh Travel were superb from the start. The representatives we dealt with were very personable, professional, and understood exactly what we were looking for from the trip. The package they provided met all our requirements and was the best suited for our group in terms of location and cost by a long way." - University College London Hockey tour to Malta
Enquire now to find out how Burleigh Travel can organise your next hockey tour.