Barbados can be described in one simple word, paradise. This little island is located in the Eastern Caribbean, with white sandy beaches and emerald blue seas. Bathed in sunshine throughout the year, the average daytime temperature is 30°C. The Bajan way of life is very chilled and incredibly welcoming, with all teams that tour there commenting on how well hosted they were. This warm welcome and gorgeous climate, combined with the fantastic excursions and competitive fixtures, makes Barbados a wonderful destination for all school sports tours.
Barbados is just 21 miles by 14 miles, but don't let that fool you into thinking you will run out of things to do as it has some truly memorable excursions. Its lush golden beaches and clear blue sea offer relaxing days spent soaking up the sun or amazing experiences like snorkelling, boat cruises or water based assault courses.
The Catamaran cruise is one of the most recommended excursions of any location we run tours too. A day spent seeing the island from the sea, you will enjoy music, food and snorkelling where you may even have the chance to swim with turtles. The Boatyard is another popular day out, with inflatable climbing walls and obstacles in the sea, and bars and restaurants on land, it has something for all ages.
You will be based in the Holetown area on the West Coast. This was the first settlement on the island and was originally named Jamestown, after King James I of England. The name 'holetown' then came from the beaching and cleaning of ships in the small channel next to the village. It has now grown into a bustling community, with a number of beautiful sea view restaurants and bars to try.
Netball in Barbados
Due to it's Commonwealth history netball is the most popular women's sport on Barbados, and there are a number of clubs spread across the island. Netball is played in almost every school on the Island, with a number of competitions at both U15 and U18 levels. This ensures that during your stay you will face some competitive netball fixtures against a range of teams.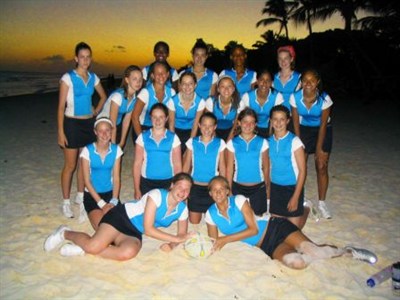 Rugby in Barbados
While rugby is not a sport often associated with the Caribbean it is played in the majority of school's due to the island's long history of English rule. While some of the basic skills may not be to the level of English school rugby, the game is played with a zeal and passion that more then make up for this. With pace and flair your fixtures will offer a unique challenge for your players, and you are sure to receive a very warm welcome from your hosts.
Hockey in Barbados
Hockey is another sport not often associated with the Caribbean but it is currently flourishing in Barbados. The island has a dozen local clubs, a successful national team and a competitive inter school set up.
Cricket in Barbados
Cricket is more of a way of life then a sport in the Caribbean and you would be hard pressed to find countries more passionate about the sport! Cricket is played and supported throughout the Caribbean at all ages and abilities.