Senior Football Tour to Antwerp: Swindon Village Rovers FC
Read about this senior football team's tour to Antwerp
Senior Football Tour to Antwerp: Swindon Village Rovers FC
Tour Information
For their senior football tour the players from Swindon Village Rovers FC in Gloucestershire chose Antwerp as their base. Antwerp boasts a chic new waterfront development, which plays host to a promenade of restaurants and bars whilst after dark, this vibrant city takes on the role as Belgium's capital of nightlife!
Having travelled across to Belgium the group quickly settled into their accommodation just in time to let the celebrations begin where the Antwerp nightlife provided the entertainment into the early hours.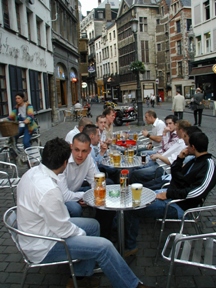 The following morning was spent at leisure where there was the opportunity to take in some of the sights of central Antwerp and enjoy a spot of lunch before they were met by their coach and transferred to their fixture which took the form of a small tournament featuring two teams from Antwerp along with Swindon Village Rovers FC and another Burleigh Travel touring side.
The tournament was enjoyed by all tourists and once the matches were completed they travelled on to the Molly Blooms Pub for the post match festivities from where they were free to continue the celebrations into the night.
On their final full day the group were able to enjoy a free day in Antwerp before they prepared for their final night of the tour and their return journey the following morning to complete their tour.
Swindon Village Rovers FC : Football Tour to Antwerp Highlights!
The Football tour to Belgium was thoroughly enjoyed by all who attended, with the following highlights being memorable, (or not so!) for all:
Tournament at Molly Blooms FC: excellent hosts
Fantastic coach driver - really got involved in the tour spirit
Enjoyable nightlife: well researched during the tour!!
Tour tradition: the usual formalities and lively banter!
If this is a tour that appeals to you and your Football Club, please contact us through our online enquiry form and we will happily provide you with the information you need.