The Abbey School spent seven nights on the beautiful Caribbean Island of Antigua this year for what they described as a "superb tour". We were delighted that their tour was such a success for all involved as we had received a rather panicked email from them when their original tour company went into liquidation. With their hopes initially dashed we worked hard to reinstate their tour and loved to receive such positive feedback upon their return.
The Caribbean continues to be a popular choice for school netball tours, and many go for Barbados. But Antigua is a fabulous choice. Ringed by coral reefs this little island has hundreds of stunning beaches and it is easy to see why Admiral Nelson established this as his base in the 1780s.
The team were based at the Jolly Beach Resort & Spa, an all inclusive resort sat on a mile long sandy beach. This lovely hotel was very popular with the team – "We enjoyed a quick and easy check in, and all the staff were exceptionally friendly. The rooms were all very clean and close together, and there was so much on site for the girls to do." We had left the first weekend free from them to enjoy the beach and water based activities, but had arranged for them to visit Shirley Heights for a sunset BBQ and steel band.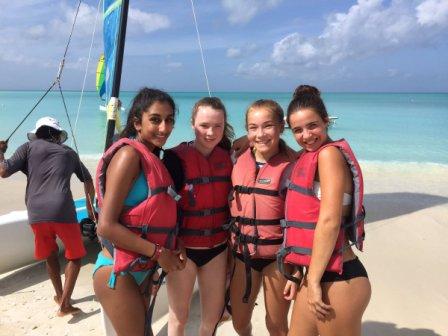 The tour fixtures were scheduled over the following three days, with late afternoon starts to allow them time to enjoy morning training sessions (as well as some time on the beach or in the pool!). The opposition teams were well matched and the Abbey School recorded 2 wins out of 4, describing our host teams as "excellent".
On their final full day of tour the team embarked on a Catamaran Cruise. Like with our tours to Barbados, this was a real highlight of the tour!
The Abbey School: Netball Tour to Antigua Highlights!
Sports tour are often the highlight of children's time at school, and it must have been a huge blow for the staff and players when it looked liked their tour plans were dashed. But with over twenty years experience of arranging sports tours for schools we were delighted to get involved and help plan a memorable tour for the school. Their highlights included:
Great hotel located on the beach with exceptional staff.
Excellent coach driver – "Winston made our week!"
Amazing day out on the Catamaran Cruise!
Stunning beaches.
Great netball and hosting.
Burleigh Travel's help and communication "were second to none".
If this is a tour that appeals to you and your netball club, please contact us through our online enquiry form and we will happily provide you with the information you need.