Heriot Watt University rugby team enjoyed a 12 day tour to Canada, spending time in Toronto and Niagara. They had three fixtures, and a number of exciting excursions and days out exploring. Below is the letter they sent in following their tour, and it was wonderful to hear what a great time they all had.
"I thought I would send you an update of how the tour went.
First week in Toronto we played our 2 games winning against Markham Irish 29-14 and again 44-24 against Toronto Scottish.
The boys spent their days looking at the local sights like the CN Tower, Royal Ontario Museum and Canada's Wonderland.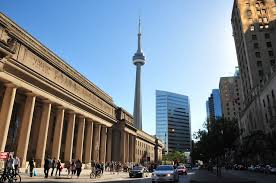 The night life was experienced well with the majority of the boys heading out every night bar one. The bar across from the hotel "The Imperial" was the start point of most of the nights and the night club highlights were clubs Uniun and Madison's.

The trip to Niagara was a success as we completed our unbeaten run winning 12-7 against Niagara Wasps. Of course in our final match after a smooth tour we had 2 injuries both requiring a visit to the hospital. A member of the women's team kindly took us to and back from the hospital after the match and waited with us whilst the two were being seen to.

The tour was an exceptional experience; all the boys are still talking about it and there are already talks of a tour next year!

I can't thank you enough for everything you have done for us over the past year and all the helpful hints and tips you included in the tour pack for us when we were over there.
Many, many thanks,
Chris Dumont and Heriot-Watt University Rugby Club"
Heriot Watt University: Rugby Tour to Canada Highlights!
Their rugby tour to Canada was a great success and some of the teams highlights included:
3 competitive fixtures with fantastic hosting
Brilliant night life in Toronto
Visiting the CN Tower and Wonderland Theme Park
Burleigh Travel's insider tips about Canada
If this is a tour that appeals to you and your rugby club, please contact us through our online enquiry form and we will happily provide you with the information you need.