Senior Rugby Tour to Tallinn
During their senior rugby tour to Tallinn, the players of Banbridge Blue Sox Rugby Club from Northern Ireland participated in a competitive rugby sevens tournament as well as having a warm up friendly rugby match arranged against the Tallinn Tigers RFC – they emerged victorious from both!
The team also enjoyed an excellent post tournament party at the nearby Oscar Wilde's Bar and then continued their celebrations into the night in the variety of other bars and clubs a tour to Tallinn is sure to include. They were also introduced to some of Tallinn's "traditions" including the morning sauna – which they all embraced to it's fullest.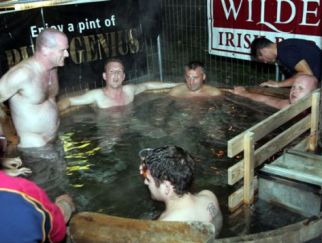 Banbridge Blue Sox RFC : Rugby Tour to Tallinn Highlights!
The rugby tour to Estonia was a fantastic alternative to the normal rugby tours that the team was used to. In particular the following aspects will stick in their minds:
Tournament success: Tartu 7's Tournament – overall winners
After tournament party at Oscar Wilde's Bar
Fixture v Tallinn Tigers: excellent hospitality
The traditional morning sauna!!
Plenty of night life for a classic rugby tour!
If this is a tour that appeals to you and your rugby club, please contact us through our online enquiry form and we will happily provide you with the information you need.