Junior Rugby Tour to Lille & The Pierre Delorme International Rugby Tournament
During their junior rugby tour to Lille, the players of Hertford Rugby Club U15's had the opportunity to take part in a fantastic two day rugby festival in Lille called the Pierre Delorme International Tournament. This well established tournament is an excellent event attracting teams from many countries and sees pool matches played on day one, with tiered finals on day two, ensuring that regardless of results each team has two days of rugby.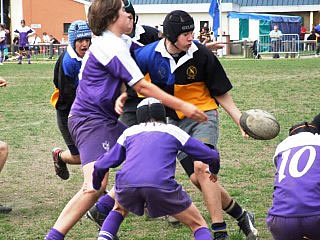 The 65 person strong party from Hertford enabled the tourists to enter two teams into the festival and their B team emerged victorious in the plate competition.
Away from the rugby tournament, the group had the opportunity to experience the local mix of culture, modern living and historic features Lille has to offer. A relaxing evening was spent at La chicoree restaurant in Central Lille where the group enojoyed a team meal booked by Burleigh Travel. With lunch each day and an evening meal on the Saturday provided for the teams as part of their rugby tour package, the coaches and parents could sit back and support their teams whilst soaking up the atmosphere of this Northern French town.
Hertford RFC U15's: Rugby Tour to Lille Highlights!
The Junior rugby tour to Lille, was fantastic and really enjoyed by everyone, with some lasting memories:
Tournament was great – Challenge International Pierre Delorme – B team won the plate and A team reached the semi finals of the cup competition
Good accommodation for the group
Great typical touring banter
Lovely team meal at La Chicoree restaurant
If this is a tour that appeals to you and your rugby club, please contact us through our online enquiry form and we will happily provide you with the information you need.