RUGBY TOURS RETURN
After the much publicized effects of Covid-19 on grass roots sports it was a pleasure to welcome a group of 30 plus people from Dorking Rugby Club U13's to Croft Farm in Gloucestershire at the end of September for their re-arranged rugby tour, which was originally due to take place at Easter.
With clear blue skies over the water parks lake glistening in the early autumn sun the group enjoyed a huge welcome BBQ to set them up for their arrival in the West Country.
After a good night sleep in their log cabins and a hearty breakfast the team enjoyed a group coaching session from Chris Kite (Director of Burleigh Travel). Here they learnt a variety of new techniques that will serve them well over the remainder of the season.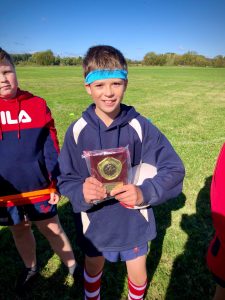 The group then enjoyed a Ready4Rugby match rugby match at the parks very own 'Rugby Meadow'. This was followed by a lunch of pizza, chips and (allegedly salad) at the water parks decking area overlooking the lake.
In the afternoon the players took to the lake to enjoy a raft building activity where they learnt how to work as a team under the excellent supervision and tuition from the activities team.
Their busy day concluded with an end of tour BBQ and campfire.
After breakfast, the group had time for a final game of touch rugby before making their way home, pleased to have enjoyed their long awaited rugby tour.
If you would like details on how we can produce a tailored tour weekend for your group or wish to participate in our new May Bank Holiday 'Festival on the Farm' please contact: [email protected] or visit our website: https://www.burleightravel.co.uk/rugby/mini-junior-teams/