Colts Rugby Tour to Cheltenham
With its beautiful countryside and variety of activities and entertainment options, a rugby tour to Cheltenham in the heart of Gloucestershire's rugby obsessed culture proved ideal for Trojans Rugby Club Colts XV.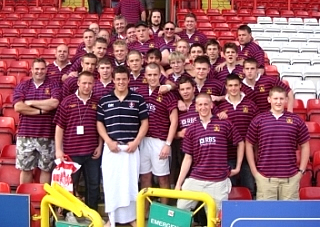 The weather was superb and the nightlife on offer in central Cheltenham was much appreciated by everyone in the group.
Their rugby match against Cirencester RFC was of an excellent standard and the result of 12-7 against the tourists showed how extremely close it was. After the game they were treated to fine hospitality by the host club.
Trojans Colts RFC : Rugby Tour to Cheltenham Highlights!
With Burleigh Travel being local, a rugby tour to Cheltenham provides a great long weekend option for any rugby club. A number of our staff live in the town and would provide testimony to many of the advantages shown:
Superbly located accommodation of a high standard
Fixture v Cirencester RFC: excellent hosts and a really great end to the tour
After match festivities true to form with the help of a tractor tyre!
Great nightlife in an area of Regency England
The options of Premiership Rugby at Gloucester, Bath and Worcester
If this is a tour that appeals to you and your rugby club, please contact us through our online enquiry form and we will happily provide you with the information you need.