University Cricket Tour to Australia: Liverpool University
Read about this University Cricket tour to Brisbane, Sydney & Melbourne, plus a stop in Singapore!
University Cricket Tour to Australia: Liverpool University
University Cricket Tour to Brisbane, Sydney & Melbourne
During their university Cricket tour to Australia, the players from Liverpool University visited Brisbane, Sydney and Melbourne each with their own individual styles and cultures. Brisbane is the capital of the sunshine state of Queensland and, although it has a population of 1.3 million people, has a very friendly and relaxed atmosphere. The touring side found some great nightlife, world-class restaurants and riverside cafés. Vibrant and cosmopolitan, Sydney combines glamorous shopping and alfresco dining with historic sights and golden beaches. The relaxed, outdoor lifestyle centres around one of the most stunning natural harbours in the world. Melbourne is known as Australia's Cultural Capital, and hosts a variety of events and finals, as well as a host of wining, dining and shopping possibilities.  It is also well known for its sport, from the Australian Open Tennis, to the Boxing Day Test Match which the guys from Liverpool University attended during their cricket tour. Further information on Liverpool University Cricket Club's Tour to Australia can be found by following this link.
The team from Liverpool University CC began their cricket tour to Australia in Brisbane following a stop over in Singapore. While in Brisbane they experienced wonderful post match hospitality with their host teams especially at Beenleigh Cricket Club with a BBQ provided and numerous beers consumed with the usual drinking games! The players also enjoyed some competitive cricket. During their time in Brisbane the team had the option to visit the Gold Coast with its wonderful scenery as well as Wet 'n' Wild, Australia's premier water park.
The players then moved on to Sydney where they played against the famous SCG XI emerging victorious, while also enjoying some of the breathtaking sights available in this vibrant city such as the Opera House and the Sydney Harbour Bridge. The group even had the opportunity to climb to the top of the bridge!
The last destination on this 19 day cricket tour was Melbourne where the team enjoyed 3 days at the Boxing Day Test Match at the MCG. They managed to witness the historic moment when England won the Test Match and regained the Ashes! As you can see from the picture they also managed to get Matthew Prior to proudly hold their flag aloft to celebrate the victory!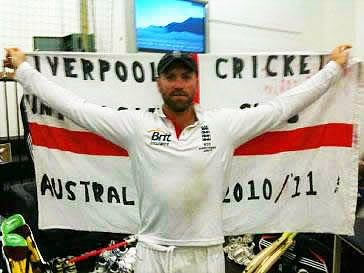 Every player on the Liverpool University CC Cricket Tour to Australia agreed it was the trip of a lifetime and they would thoroughly recommend a tour to this stunning destination to anyone!
Liverpool University CC: Cricket Tour to Australia Highlights!
With its culture, nightlife and tradition, a cricket tour to Australia is a wonderful experience for any touring team with some of the highlights enjoyed by Liverpool University CC being:
Wonderful social at host clubs especially Beenleigh CC in Brisbane
Seeing England retain the Ashes at the MCG!
Vibrant city life and fantastic nightlife in all three destinations
Sport obsessed culture
Competitive cricket fixtures
Wonderful scenery of the Gold Coast!
Sydney sights: the Opera House and Harbour Bridge
If this is a tour that appeals to you and your Cricket Club, please contact us through our online enquiry form and we will happily provide you with the information you need.