Whitchurch Hockey Club took four teams on a 4 night tour to Holland. They were based at the very popular Marinapark Volendam, and enjoyed 12 fixtures during their tour! They were kind enough to write us a report of their time in Holland:
"On behalf of our party of 45 boys and girls as well as the 8 supervising adults, can I thank you for all your work in organising our hockey tour to Holland. The self-catering apartments at the Volendam's Marinapark were ideal for our trip. As we were out and about each day, we did not need half-board or full-board and we took our own breakfast supplies of cereal packets and brioche rolls, whilst purchasing milk, orange juice and some bags of sugar over there. This meant that breakfast cost £0.75 per person per day!
The apartments were grouped in close proximity to the staff apartments thus allowing constant supervision but the young hockey players thoroughly enjoyed the sociability of sharing 6 to an apartment. The marinapark was also ideal as it was only a 10-15 minute walk into the centre of Volendam where we accessed supermarkets, gift shops and restaurants. For any future touring parties, please recommend "De Lunch" restaurant on the harbour walk which catered for all of our party of 53 at short notice and served them remarkably quickly with a sufficient variety of food that could be enjoyed by "uk tourists"! (Haddock and chips, schnitzel and chips, pancakes, burgers for example). The prices were very reasonable varying from E6-E18 depending on the meal.
Volendam was also a good place to stay because we enjoyed our visit to the Cheese factory in the town whilst the Zaanse Schans open air historical museum was just 35 minutes away by coach. It was just 30 minutes at most to travel to the hockey clubs in Amsterdam and one of our matches against Purmurend was only 10 minutes drive.
We congratulate you on arranging the hockey fixtures with AMVJ, Purmurend and Westerpark hockey clubs because the quality of opposition was very similar to our standard in 11 of the 12 games arranged. Consequently, our tour record of won 5, drew 1 and lost 6 shows that games were evenly matched. In some of the games that we lost, we could appreciate the superior Dutch skill and this became part of our learning experience. Two of the 3 hosts gave us a meal after the game (Pasta and sauce at AMVJ and a mixture of toasties, croquettes, chips and burgers at Purmerend) which cost E7 and E5 per head. This solved our evening meal problem!! Westerpark's clubhouse was being built so perhaps they would cater in future.
All three host teams were extremely accommodating and friendly and we thoroughly enjoyed our conversations with their coaches after the games.
Creigiau Travel brought a new bus that had only done 7,000 miles so we were mindful to constantly clear litter by putting carrier bags on the arm rests. The driver, Robert Carless, was friendly and most helpful in explaining what could and could not be done according to his hours. He was complimentary about the way our tourists behaved and said he would be delighted to accompany us again. He was always available which was most helpful.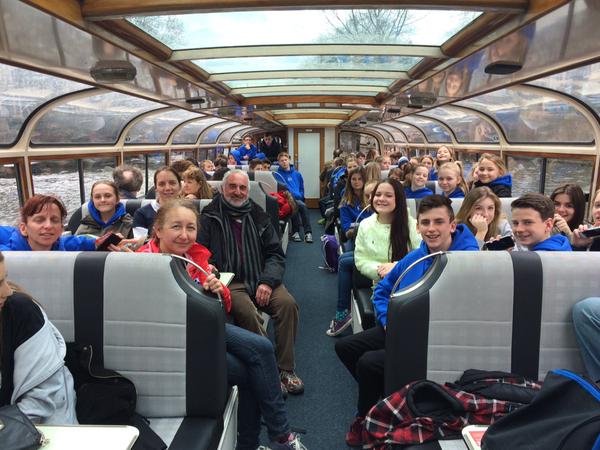 I was particularly impressed by the thorough preparation done by yourself. The provision of maps, cleaning instructions for the apartments, the fixture information, cheese factory talk, Amsterdam boat trip, accommodation and travel information contributed enormously to the smooth running of the tour. As the organiser, I thank you for answering my constant questions over the last 6 months and for nudging me when I had not provided you with the appropriate list/payment/information.
Of course, one of the best points about travelling with Burleigh Travel was that we had really good value for money. I would certainly use Burleigh Travel again if we launch a future hockey tour. Many thanks again for all your support and hard work,
Best wishes
Chris Despres"
If this is a tour that appeals to you and your hockey club, please contact us through our online enquiry form and we will happily provide you with the information you need.