Senior Rugby Tour to Amsterdam
During their five day rugby tour to Amsterdam, the players of the University of Essex Womens Rugby Club enjoyed not only great rugby fixtures against two local Dutch clubs, but also the abundance of nightlife that is synonymous with Amsterdam! The rugby tour was based in central Amsterdam in accommodation boasting it's own bar open until 2am each day – plenty of opportunities to have a post match drink or two (as the girls found out!).
The tour started with the students being collected from their university by coach and heading to the ferry port. After a short crossing they were soon in Holland – arriving in the early evening; just at the right time for them to prepare for the excellent nightlife on offer.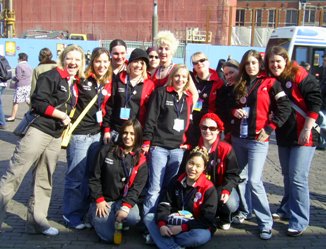 Their first rugby match was against RC Waterlands Dames who were excellent hosts for the touring team and after a keenly contested fixture, the competition carried on in the club house with the usual pre match traditions of boat races and such like! The following day was left free for the girls to pay a visit to the famous Heineken Brewery and make the most of all the attractions Amsterdam has to offer. With the hotel located within easy access to all the main squares of the city a day of sightseeing, shopping and socialising is made very easy!
The group then enjoyed another night on the town and their final fixture was scheduled for the evening of the following day, so that they had more time to recover before kick off! The match was played in good spirits against RC Bassets Babes and after which the celebrations moved back to central Amsterdam for the last night of the tour.
University of Essex WRFC

: Rugby Tour to Amsterdam Highlights!

The rugby tour to Amsterdam was thoroughly enjoyed by all of the touring students with the following highlights being particularly memorable:
Fixture v RC Waterland Dames: great post match socialising!
Fixture v Bassets Babes: excellent host team – very welcoming
Enjoyable nightlife: superb time had by all each night!
Excellent location of the hotel: easy access for all of the main squares
If this is a tour that appeals to you and your rugby club, please contact us through our online enquiry form and we will happily provide you with the information you need.