University Cricket Tour to St Lucia
The Nottingham University Cricket Club touring party which consisted of fifteen players (ages 19-25 years old) arrived for their cricket tour to Saint Lucia on Friday, June 18, 2010 at the Hewanorra International Airport, Vieux Fort. The tour lasted fifteen days where the group were accommodated at the Palm Haven Hotel, Rodney Bay, Gros Islet. 
On Tuesday, June 22 the visitors began their tour with an impressive 9-wicket victory over a Babonneau Representative XI at the now famous Beausejour Cricket Ground. Replying to the local team's 147 all out in 30.2 overs, Nottingham University easily reached their target by scoring 149 for 1 in just 22 overs.
Two days later at the Gros Islet Playing Field, the visitors tasted their first tour defeat at the hands of the home team. Batting first, Nottingham University were dismissed for 131 from 29.4 overs, and then the Gros Islet Under-19s attained their target by scoring 133 for 6 in the 28th over.
The following day they travelled to Choiseul where they were beaten by the Choiseul Under-19s by 51 runs at the La Fargue Playing Field. The home team totaled 171 for 9 from their allotted 30 overs, whereas the Nottingham University lads were bowled out for 120 in 23.5 overs.
On Monday, June 28 the visitors went down to the Dennery Cricket Ground for their fourth match against a Dennery Representative team who batted first and made a challenging 152 all out in 33.5 overs after being precariously placed on 38 for 6 after just 11 overs in the 40-overs-per-side encounter. Steady and sensible batting by the University lads brought them victory No.2 as they finished on 154 for 6 with ten (10) balls to spare.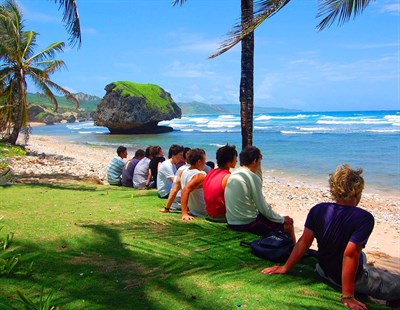 Nottingham University final tour match (a Twenty20 affair) saw them registering a comprehensive victory against the Gros Islet Under-19s at the Gros Islet Playing Field on Wednesday, June 30. They chalked up their highest total on tour, making 178 for 4 from their allotment of 20 overs. Gros Islet Under-19s in return could only muster 101 in 19.3 overs.
They played their five scheduled matches, winning three and losing two.
When not engaged on the cricket field, the group took the opportunities to get a good mix of what Saint Lucia had to offer. Such planned activities included a Catamaran Boat Cruise along the West Coast of the island down to the historic town of Soufriere, a Deep Sea Fishing expedition in which only six members participated, and the Gros Islet Friday Night Street Party. In addition, their enjoyment of Saint Lucia's most popular beach (Reduit Beach) and the Hotel's swimming pool are certainly activities expected to remain unforgettable experiences for all.
The final words of the group leader, Ed Hubbard, summed it all up, "We had a great two weeks in Saint Lucia and I would be happy to recommend you to other clubs." To find out more about tours to St Lucia and other cricket tour destinations for student cricekt teams please click here.
If you wish to experience a cricket tour to St Lucia please contact us and one of our dedicated members of staff will be delighted to assist.