General Rugby Festival Information
The Oakmeadians rugby festival is conveniently scheduled to take place during the school Easter break to guarantee the maximum uptake form your club. A two night package is also available if your schools break up a week later. Hosted by Oakmeadians in their stunning grounds, this is a fun filled rugby festival that is always hugely popular.

Your accommodation is at the popular Sandford Holiday Park which has plenty of onsite amenities to keep your group entertained! These include a heated indoor pool, tennis, table tennis, short mat bowls, crazy golf, multisport court for basketball and football, 2 outdoor play areas with a climbing wall and amusement arcade with Tenpin Bowlingo!
The parks also offer a variety of restaurants and evening entertainment and is conveniently located just a short drive to Oakmeadians Rugby Club which itself is located within walking distance of the Bournemouth Seafront.
Your Rugby Tour Itinerary
Friday 8th April 2022
You will depart your club and travel by coach to your accommodation. Check in is available from 4pm however the onsite facilities such as the indoor pool will be available throughout the day. The remainder of the day and night free to explore the park and use your leisure and entertainment passes.

The Burleigh Travel reception party has now become a legendary event to help the tour organiser and their coaches kick off their weekend in style, and will give you a chance to meet up, and socialise with the representatives from the other touring teams and to meet the Burleigh Travel Staff while enjoying complimentary food and drink.
Saturday 9th April 2022 – The Oakmeadians RFC Mini Rugby Festival
Here a full day's rugby will take place in the impressive grounds of Oakmeadians Rugby Club in Bournemouth. You will compete in groups in a round robin format ensuring that your team will play as much rugby as they are allowed to play in a one day festival in line with RFU guidelines. There will be food and a bar available throughout the day and once the tournament is complete, there will be a formal presentation as the winners climb the "Oakmeadians Steps" to the clubhouse balcony to accept their prizes.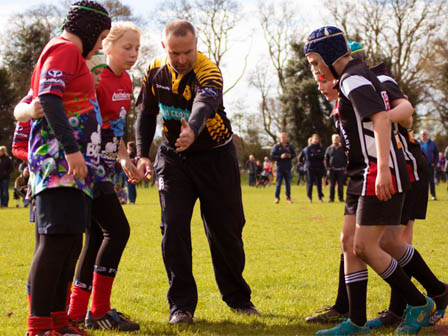 The junior age groups may wish to use the parks facilities or spend a day at the beach. There is also a range of local attractions to explore such as a day out at Paultons Park, which has over 50 attractions and rides, Corfe Castle, Palmer's Farm Park, The Tank Museum, Weymouth Sea Life Park or Adventure Wonderland.
Sunday 10th April 2022- The Oakmeadians RFC Junior Rugby Festival
Today will be the turn of the juniors to enjoy a their rugby at Oakmeadians RFC where there will be food and a bar available all day. The day will again be concluded with formal presentation as the winners climb the "Oakmeadians Steps" to the clubhouse balcony to accept their prizes. After enjoying some time in the clubhouse, you will return to your accommodation to continue your celebrations.
Monday 11th April 2022
After checking out of your accommodation the day is free to make the most of the parks facilities or explore the gorgeous Bournemouth seafront, before you begin your journey home.
Enjoy the Oakmeadians RFC Mini & Junior Rugby Festival 2022 From Just £89 per person
If you would like more information you can download a sample 2022 rugby festival itinerary.
Additional Rugby can be arranged on the non tournament day for touring teams with larger squads against local teams, or you can also enter the Bournemouth Mini and & Junior Rugby festival which runs on alternative days. Please speak to one of our team to find out more or book your place.