Holland as a Football Tour Destination
As part of Burleigh Travel's recent sports tour familiarisation trip to Holland, we met up with and were kindly allowed to tag along and support Blacon Youth FC's footballers as they explored Holland and took on the Dutch on the football field.  
The young footballers and their coaches landed in Holland late morning after their short, comfortable flight from Manchester and once checked into their holiday park accommodation, headed out for their first football fixture later that evening. Both teams showed similar skills levels and having played a very competitive, entertaining and close game of football, the usual after match formalities were enjoyed by all. The tourists then returned to the holiday park where we were on hand to assist as needed and more so enjoy a drink in the company of the adults on the tour. The group all seemed very settled and happy with their accommodation; the units were all close together and comfortable and all were enjoying the facilities at the complex and later in the town of Volendam itself.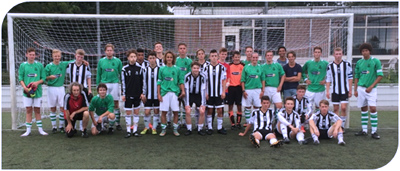 The second day saw another very competitive and close game of football that we were fortunate to be able to watch! We thoroughly enjoyed the game and especially the spirit under which it was played. The passion for and enjoyment of football was clear to see from the young footballers of both teams. The club's coach David said it was an even closer game the night before! The oppositions club house offered fantastic facilities and our tourists seemed very impressed with the set up. We were very happy to be there to watch & support. 
Later that evening, the touring party went in to Amsterdam and the impressive Amsterdam Arena to watch Aijax take on Willem in the Eredivisie; Holland's top football league. Our very own Matt and Gareth tagged along and really enjoyed the experience and the feedback we had from Blacon lads was fantastic. They seemed to have a buzz about them after experiencing the atmosphere in such an impressive stadium.
Their final full day of their football tour was free to relax and recover from the tour's football and was free time for players to do as they wished, to use the facilities on the park. We had seen several of the lads from the group heading down to the Marina to explore. The grand finale of their football tour was a behind the scenes tour of the Ajax stadium where they had been spectators just two days before; they had some great photo's here and memories to last a life time.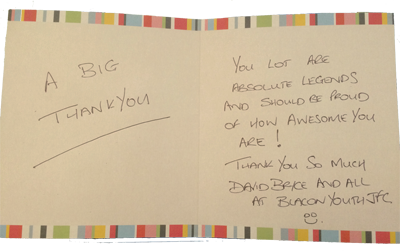 The football tour to Holland was a fun packed and varied experience for the young footballers and coaches of this team. We enjoyed our time with them very much and thank them for including us throughout their football tour. We even got a personalised thank you card from the coach; thank you Blacon Youth!