Mickleover Sports FC U16's travelled over to Cologne this month as the country celebrate their recent success in this year's World Cup!
Their journey began on Friday 4th July when they set off via coach to catch their ferry. The group arrived in Cologne in the early evening and checked into their accommodation where they would spend the next three nights. The next two days would see Mickleover Sports FC compete in a mini football tournament hosted by VfB Wissen who Mickleover Sports FC has a long standing relationship with.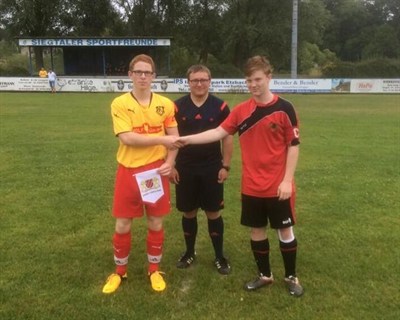 One the first day of football Mickleover competed in two fixtures against VfB Wissen and SG06 Betzdorf on what was a hot and humid day. Mickleover's first match against VfB Wissen was a close encounter and stayed at 0-0 until early in the second half when the deadlock was broken following a lovely free kick by the visitors. The flood gates opened after this with the final score ending 5-0 to Mickleover Sports FC.
The second match was again a very close match. Cue controversy ten minutes in as a Mickleover Sports player hit a strong shot from the edge of the box that the keeper fumbled over the line and after much debate, the goal was given. Sports began to dominate possession, but Betzdorf were always dangerous on the breakaway and with 1 minute on the clock, a long ball chased down by 2 Betzdorf forwards put pressure on Sports defence & goalkeeper with the ball falling to a Betzdorf player to level the scoring and make the final score 1-1.
One the second day, Mickleover, who had made it through to the final, faced SG Mittelhof / Neiderhovels (area representative side in Wissen) in a humid 30 degrees! Mickleover dominated early proceedings and went in at the break 2-0 up. In the 2nd Half SG Mittelhof came firing out of the blocks and were able to pull back two goals to draw level. This pressure continued with a bombardment of Mickelover's goal, but they managed to weather this storm and were duly rewarded with a further two goals late on in the game to make the final score 4-2 to Mickleover Sports and ensured that they finished their tour unbeaten!
The group were treated to a fantastic BBQ once the tournament had reached its conclusion and the players even managed to win a fun penalty shootout 4-3!! They were royally looked after throughout their football tour by the host club; so much so that they have invited VfB Wissen over to England next year when they hope to repay the hospitality that they enjoyed in Germany.
On top of the football, the young players were also able to experience the beautiful city of Cologne with a team meal in Cologne at the 'L'Osteria Pizza e Pasta'; a restaurant which the group were very keen to recommended.
When Monday came around, the group checked out of their accommodation and boarded their coach for the return journey with plenty of great memories of what was a fantastic football tour. Their only regret was that they weren't in Germany the following day to be a part of Germanys World Cup celebrations!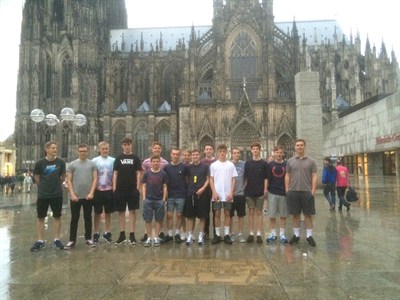 If you would like to experience all that Germany has to offer for your football tour you can make an enquiry now to receive your tailored football tour itinerary and quote. Or if your team would like to travel somewhere different you can see all of our football tour destinations here.