As your thoughts move to the new hockey season, which is just a few weeks away, it is a good time to begin considering and planning your next tour. We always recommend having some plans in place before the season starts. This gives you plenty of time to collect deposits and final balances, allows your players to book time off work, and have a brainstorm about all the fancy dress themes!
There is a wide range of destinations available to you for your tour and a full list of them can be found here. But to help you narrow down your search we have picked 5 destinations which we think offer a great touring experience for your team.
Hockey Tours to Holland
Holland is one of our most popular European destinations for all ages and sports. There is so much to see and do during your trip, from the windmills and tulip fields in the countryside to the vibrant capital city. We look to base our junior and school hockey tours in holiday park accommodation. These offer a safe and secure environment to explore without needing constant supervision. The sites also have a range of activities to keep your players thoroughly entertained throughout their stay.
For senior and University tours we will look to base you in the heart of the action in Amsterdam. This is one of Europe's most famous capitals and has a range of activities to ensure an unforgettable trip. With countless bars, pubs and clubs, beer bikes, canal cruises and brewery tours it will be a fantastic trip.
Holland's national team is one of the most successful in the world and this success has filtered down to club and school level. With fantastic facilities and a wonderful reputation as hosts Holland is a brilliant choice for your next hockey tour.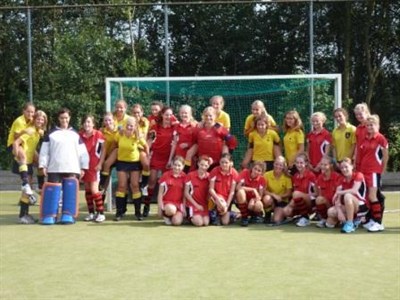 Hockey Tours to Spain
Spain is a fantastic choice for your next tour! With hundreds of miles of gorgeous beaches, countless coastal villages and town to explore, and one of Europe's most vibrant and lively capital cities it is sure to offer an exciting stay. We look to base the majority of our tours in the stunning Lloret de Mar region.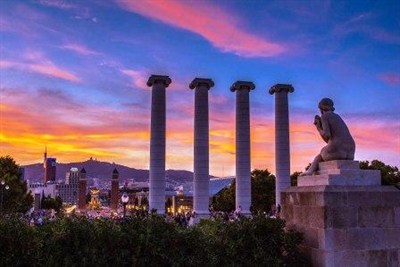 The area is renowned for its beaches, which have been awarded the Blue Flag (an award which guarantees the best beaches and seas). The main beach in the city is Playa de Lloret, which is a mile-long and has a promenade full of shops, bars and restaurants. It is also only an hour from Barcelona so be sure to spend a day exploring the wonders that it has to offer.
Hockey is played throughout Spain, and many of the teams boast fantastic facilities. Extremely friendly and welcoming in their hospitality expect a fierce competition on the pitch. With our extensive knowledge of the area we tailor your hockey fixtures to your team to ensure you get the most of your matches.
Hockey Tours to Belgium
Belgium is, like Holland, a very convenient destination to tour to. It is a compact country, but one that is full of fascinating and vibrant cities which merge seamlessly between the new and old. There are castles and cobbled alleys mixed in with modern bars, restaurants, galleries and clubs.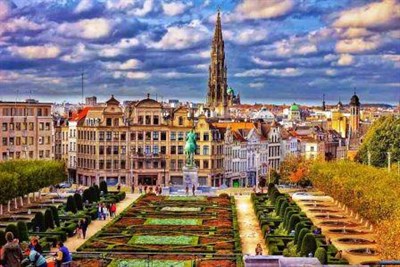 The country is famed for its food and drink, with some of the world's best chocolates and beers! Be sure to pack your elasticised trousers as you explore all the culinary delights on offer.
While hockey is still a developing game in Belgium, the country's men's team (The Red Lions) have reached 5th in the world, and their domestic league continues to develop and expand.
Hockey Tours to Germany
We offer a range of destinations for our hockey tours to Germany; Berlin, Cologne and Hamburg. Berlin has developed into one of Europe's cultural hubs which can cater for all ages and group types. It is a unique mix of open green spaces and iconic architecture. History lovers will be overwhelmed by the sites such as the Reichstag, Berlin Wall and BrandenBerg Gate, while those looking for a more social scene will be spoilt for choice with the countless bars and clubs that sometimes stay open for days instead of hours.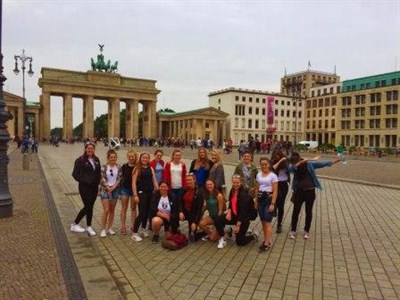 Cologne is home to some stunning Gothic architecture and is regularly voted the country's single most popular tourist attraction. But is it is also a vibrant city with beer halls along the Rhine and some fantastic bars and restaurants.
The German national hockey team is one of the most successful sides in the world. This is due to an impressive set up at both school and club level. This ensures that we will be able to cater for all abilities and ages when organising fixtures.
UK Hockey Tours
Staying within the UK is a great option for teams who are looking to tour with a limited budget, or for younger teams who haven't been on tour before. It offers your team something new while staying within their comfort zone. We can organised tours to almost any area of the UK, with some of our most popular locations being Gloucestershire, Cardiff and Leicester.
We had fantastic links with hockey clubs throughout the UK, with members of our team playing for local clubs. We are sure we can find you the perfect opposition!

If you would like any additional information about one of the destinations above, or any of our hockey tour packages, please don't hesitate to contact our team. Or to have us put together a tailored itinerary for your tour you can register an enquiry.