Hockey Tours to Holland
Holland continues to be one of the most popular European sports tour destinations. It is easy to travel to with flight, ferry and coach based options. The country itself is stunning, with a world famous capital city and beautiful countryside's and towns, it is a joy to explore. Our host teams are also renowned for their hospitality and are often remarked as some of the best and most welcoming tour hosts, placing a great emphasis on the 'third half'.
Amsterdam is a wonderful and unique meld of 17th century and modern architecture. It's small streets, canals and squares give it an intimate feel, but there is so much to see and explore. Visit one of the countless museum's or art galleries to see some of Europe's most famous pieces. Enjoy a drink in the bars and cafes located throughout the city. Explore on two wheels or on the water to get a different view, or for the adrenaline seekers try the new 100 meter high 'Over the Edge' swing. This new attraction is the based twenty floors above the city and is the highest swing in Europe, offering unparalleled views of Amsterdam.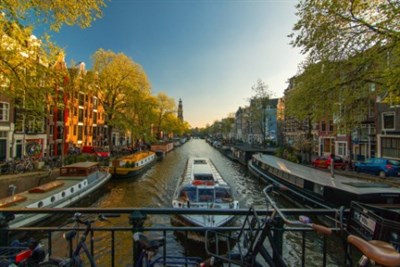 Hockey is one of the major sports in Holland. The national women's field hockey team is currently number one on the FIH world rankings and they are the reigning world champions. The Netherlands is the most successful team in World Cup history, having won the title seven times. They have also won an Olympic medal eight times.
The men's team have also had great success having won the Summer Olympics twice, the Hockey World Cup three times, the Champions Trophy eight times, the EuroHockey Nations Championship three times. They are currently 2nd in the world.
Hockey is played throughout Holland at junior, school and club level. With such successful natural teams these lower level sides are saturated with talent and passion for hockey. You are sure to have some fantastic fixtures during your tour. 
Senior and University Hockey Tours
Unsurprisingly the majority of our senior and university teams base their tour in Amsterdam. With a world famous nightlife scene, countless bars and pubs, it offers an unforgettable tour.
Try the Heineken Experience in Amsterdam's oldest Heineken brewery. Discover it's history and brewing process before making your way to the tasting room! Or housed inside one of the last eight windmills in Amsterdam is the Brouwerij 'Tij; an award winning artisan microbrewery which offers tours and tasting.
Amsterdam has countless nightclubs which offer something for all music tastes. The main areas for clubbing are Rembrantplein and Leidseplein. There are bars located throughout the city. You can even do a boat based beer tour of or rent a beer bike to explore the city.
Junior and School Hockey Tours
Many of our junior and school teams choose to stay in one of the many holiday parks located all over Holland. They offer a safe and secure environment with plenty of activities to keep your players entertained though their stay. 
A very popular trip is to the Efteling Theme Park. This fantasy themed attraction is the largest theme park in Holland and one of the oldest in the world. The attractions are based on elements from ancient myths and legends, fairy tales, fables, and folklore. This gives you a wonderfully unique and fun insight into some of Holland's history and folklore.
Another unmissable trip is a visit to the Royal Amsterdam Zoo. It is the oldest zoo in the Netherlands and one of the oldest zoos of mainland Europe. It also has an aquarium and a planetarium.
If you would like to know more about hockey tours to Holland you can speak to one of our friendly tour coordinators or submit a tour enquiry so we can put a tailored itinerary together for you.