Thank you to all those who attended our event on the bank holiday, it was great to meet you all! Well done to all those who took part, there was some great rugby across all the age groups on both days.
The rugby kicked off with the Juniors on the Saturday, where we saw some real competitive rugby between both touring and local sides.
The U13's was a 6 team event including both local and touring teams. The hosts Ivybridge won the age group with touring team Pulborough placing runners-up!
The U14's was a 5 team event with a special shout out to Whitstable for playing some great rugby after their journey along the South Coast of England on the Friday Night! The U14's was won by touring team Nuneaton (aka the minions) and runners-up were also touring side Basingstoke.
The U15's was another 6 team event with clubs from Devon, Gloucestershire, Wiltshire, Hertfordshire and Staffordshire. The winners and runners-up for the U15's was both the Hitchin Squads, proving a strong performance from their club!
The Sunday welcomed a second day of rugby at Ivybridge with all the minis clubs taking part. The U7 – U11 age groups (46 squads) took part in the spirit of rugby awards, which are voted for by the squads themselves for the team they feel is most deserving for performance on and off the pitch, sportsmanship, respect and positive encouragement.
These were awarded to Abertillery U7, London Scottish U8 & U9, Abertlillery U10 & local team OPM U11.
The U12's also took part competitively on the Sunday, which proved to be a tight group between the 6 squads with the host club Ivybridge placing first and Barnett Elizabethans and Teddington placing joint second!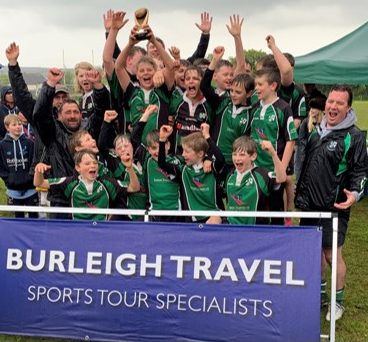 We In addition to the rugby, groups enjoyed making us of the facilities at the holiday park, enjoyed the evening entertainment and explored the local area, including Looe, nearby beaches and the adrenaline quarry activity center.
We would just like to take the time again to thank all those who took part and supported us over the past few years. We are really pleased many of you finally managed to get away on your rugby tour and it is great to see everyone back enjoying rugby!
The dates for our 2023 Big Devon Rugby Bash have now been confirmed as 28th April – 1st May 2023.
If you wish to join us for our 2023 Big Devon Rugby Bash, please click here for more details.
Many teams are planning on renewing their space for the 2023 tour so spaces are filling up fast!