Bognor RFC Junior Rugby Festival 2010
Burleigh Travel hosted the Bognor Junior Rugby Festival on Saturday 16th April where over 20 teams competed for the various trophies on offer.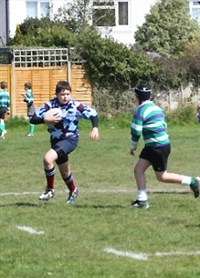 The U13 age group was very keenly contested by all teams and a good competitive spirit was observed by them all. It emerged that Woodford RFC from Essex and Amersham & Chiltern RFC from Buckinghamshire competed in the final with Amersham & Chiltern emerging as the eventual winners. The plate competition was very tight with Harlow RFC winning the final against Leicester Vipers RFC by just one score!
In the U14 age group it quickly emerged that there was a gap between the top two sides and the others and so the final was played between Lewes RFC and Beaconsfield RFC with Beaconsfield coming out on top 7-0 with both defences putting in fantastic performances. In the plate Oxford RFC beat Bognor RFC 12-5.
The U15 age group was probably the most keenly contested age group of all with all teams being very close in terms of their standard which resulted in a number of close games. It finally emerged that Paviors RFC would play Corsham RFC in the final with Paviors coming out on top 10-5. In the plate competition Tavistock RFC gained revenge for their group defeat by beating Bognor 10-5 in the final thus winning this competition.
With the number of teams playing in the U16 age group this was played in a straight pool format and there were three teams which stood out from the rest, being Hemel Hempstead RFC, Old Coventrians RFC and Salisbury RFC. All three played highly competitive physical matches against one another and eventually Hemel Hempstead came out victorious with Salisbury finshing runners up.
Credit must go to all sides on their good spirit and the wonderful level of rugby played on the day and congratulations to all winners. We would also like to thank the member of Bognor Rugby Club for their support. Every team said they had a wonderful day with some already looking to confirm their spots in next years Bognor Junior Rugby Festival on Sunday 10th April.
Burleigh Travel are the sole operators of this wonderful junior rugby event and with space selling out fast please fill in an enquiry form to register your interest for this fantastic day of rugby.