Bognor RFC Mini Rugby Festival

Bognor Rugby Club in conjunction with Burleigh Travel hosted the Bognor RFC Mini Rugby Festival on Saturday 10th April. Over 25 teams competed in this mini rugby festival on a gloriously sunny day and lots of fantastic rugby was played.
The Under 7 and Under 8 teams played some fantastic tag rugby throughout the day which was throughly enjoyed by all who watched the games. The Under 7 event was played in a wonderful friendly atmosphere and special congratulations go to Ealing RFC who won at this age group. The Under 8 event was incredibly competitive with two teams from Ealing RFC and Shoreham RFC competing for the victory right down to the final game and it was Ealing's A side that just came out on top by one point from the other two teams!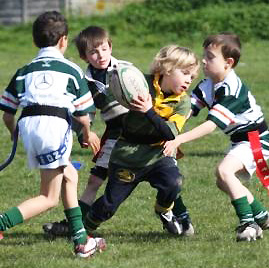 The Under 9 age group was a fiercely contested affair with Ealing RFC A side just coming out on top while Ealing RFC also won at Under 10 having just pipped Camberley RFC on try countback which also had a significant bearing on the most competitive age group of all at Under 11. The quality of rugby at Under 11 all day was exceptional and in the end the final was between Colchester RFC and Ealing RFC and when this was drawn the eventual winner was Colchester having conceded one try less throughout the competition! The Under 12s contest was won by Gosford All Blacks RFC against Bognor RFC.
Every team commented on the competitiveness of each age group and that the hospitality at Bognor RFC was second to none with some already confirming their interest in attending next years event on Saturday 9th April 2011.
Burleigh Travel are the sole operators of this wonderful mini rugby event and with space selling out fast please fill in an enquiry form to register your interest for this fantastic day of rugby.