Rugby Tours to Holland
Holland is one of our top destinations for rugby tours, offering a good level of rugby and fantastic hospitality.
Rugby is still considered an emerging sport in Holland, with their national team currently ranked 32 in the world between Brazil and South Korea, but rugby has developed a great deal in recent years and there are now teams at all levels of ages and abilities established throughout the country. 
We run a range of tour options to Holland such as fixture based tours against local Dutch teams, who place particular importance on the 'third time', or a tournament based trip to festivals such as the Hilversum Youth Rugby Tournament, an event which attracts dozens of teams from around the globe.  
Our most popular destination for senior rugby tours within Holland is of course, Amsterdam. One of Europe's most famous cities, Amsterdam really does offer the full package for senior groups. Based in the heart of the city you will have ample opportunity to explore all it has to offer.
A city renowned for its variety of culture and entertainment and above all else its "vibrant" nightlife, it offers the ideal tour destination for senior teams. Some of the activities include a tour of the Heineken Brewery, Go Karting, trying a beer bike or exploring the Red Light District. 
Most of our junior and school teams prefer to stay in one of Holland's very popular Holiday Parks. They offer your group security and a vast array of activities to keep the players and parents entertained.  The parks are located throughout Holland, and are often close enough to a large city to allow your group the chance of a day or evening visit.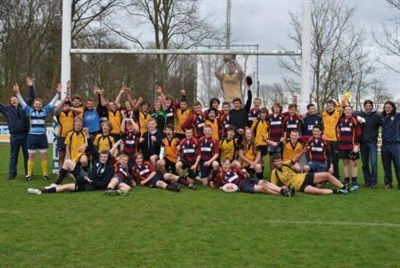 Holland offers some fantastic sightseeing opportunities such as a canal tour of Amsterdam or exploring the famous tulip fields. Holland also boast the  famous 'Efteling Theme Park'. Efteling is one of Europe's leading family attraction parks full of breathtaking attractions and spectacular shows. It is the largest theme park in the Netherlands and one of the oldest theme parks in the world. It is twice as large as the original Disneyland park in California.
Date: 1st April 2018                                                      
Age Groups: U7 to U19
The Hilversum Festival draws its entrants from a range of countries and provides a fine example of how the Dutch embrace youth rugby and enjoy the social side of the game. Burleigh Travel have been arranging tours to this event for almost 15 years.
You will be based in one of Holland's fantastic holiday parks, which has lots of on site amenities to keep your team thoroughly entertained. The tournament takes place on the Sunday so you have Saturday free to explore the local area or arrange additional fixtures. 
If you are interested in taking your rugby team to Holland, or to any of our numerous destinations, please dont hesitate to contact one of our friendly staff or register an enquiry.