Football is the most popular sport in Belgium, with a well established domestic league and host teams renowned for their welcome and post match hospitality, it is a fantastic location for your next football tour abroad.
Like Holland, Belgium is a very convenient destination to travel to with flights, ferry or Eurostar. Once there all the cities are small enough to explore by foot, and all need to be explored thoroughly! We offer a number of amazing cities to stay in, including Antwerp and Brussels, as well as some rural holiday parks which are often favoured by our youth and school tours.
Brussels is a unique city, expanding out from a medieval core it is a vibrant city which merges seamlessly between the classic and modern. It's breathtaking classical architecture includes the Grand Place and Église Notre-Dame du Sablon, while it's modern vibes boast a vast array of bars, cafes and breweries.
Belgium's second largest city is the port town of Antwerp. This city offers a wonderfully unique blend of culture and attracts art enthusiasts, fashion lovers and clubbers. It was damaged during WW2 but it has managed to keep its intriguing medieval core and it's warren of cafe filled cobbled streets are worth an explore.
It is also home to the world-famous Antwerp Zoo, one of the oldest in the world and home to 5000 animals, or book a brewery tour to sample some local Dutch beers.
Senior Football Tours to Belgium
Belgium ticks all of the boxes when looking for a destination for a senior football tour. Accessible, vibrant nightlife, fantastic excursions and competitive fixtures.
In Antwerp there are some very unique watering hole that are a must see. The Bocadero bar is a waterside beach bar, which after hours becomes an outdoor music venue, while the Bierhuis Kulminator is a wonderful little pub boasting 800 different beers. In Brussels the beer tour is a fantastic blend of history and beer. Starting off in a 321 year old bar you end up in one Brussels highest rated beer pubs.
Junior and School Football Tours to Belgium
The majority of junior and school teams choose to stay in the popular holiday parks located through the country. These parks offer a safe and secure environment, with a range of onsite activities to keep your players entertained such as indoor swimming pools and sports facilities.
Belgium has some fantastic sights such as Antwerp Zoo, Walibi Theme Park or the Grand Palace in Brussels. It is also famed for its foods, in particular chocolate and waffles. Any junior group as sure to have some mouth watering culinary experiences!
The Hageland Cup Youth Football Tournament 2018
The 30th Hageland Cup competition takes place on the 26th and 27th May 2018. It is an International Youth Football Tournament for ages 7 to 19, and is the biggest in Belgium, attracting teams from many different countries. Over recent year, more than 150 teams have taken part from 8 different nations, which included The Czech Republic, France, Germany, Holland, Switzerland, and of course Belgium.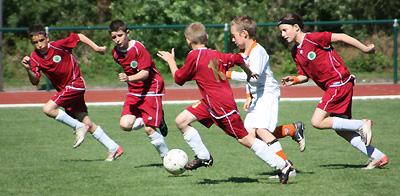 The tournament takes place close to Aarschot, 30 miles North East of Brussels. You will be based in holiday park accommodation, with a range of activities to keep your players entertained.
If you are interested in a football tour to Belgium, or one like some more information then please don't hesitate to contact one of our friendly staff, or register an enquiry to receive a tailored tour itinerary.