In May 2014, I was fortunate enough to be invited on the Gimme 5 & Fly" Barbados familiarisation trip put on by British Airways and the Barbados Tourist Association. Having never travelled to the Caribbean before I was delighted to get the opportunity to explore the beautiful island and extend my knoweldge of our Barbados sports tours.
I flew from Gatwick on one of the daily scheduled flights to Bridgetown International airport. The flight was approximately 8 hours in total, but with the fantastic range of in-flight entertainment and food on offer it didn't feel like long before I was flying in over the palm fringed beaches and azure seas that mark the descent into Grantley Adam's airport.
The Bajan welcome was anything but understated with dancers and Calypso rhythms greeting us as soon as we stepped off the plane. The combination infectious rhythms and beautiful tropical weather was truly inspiring, and as far as welcomes go this was one to remember!
The trip revolved around looking at a number of hotels to give us a better insight into what we can offer our sports teams loknig to gon on a sports tour to Barbados. We were shown variety of different locations and styles to match a range of budgets and group types.
As sports tour specialists, the Barbados tourist association were proud to exhibit the wide array of sporting facilities on offer making Barbados the perfect sports tour destination. The island is synonymous with cricket and cricket tours to Barbados are extremely popular with school and club cricket teasm alike. We were invited to view a number of facilities ranging from the school pitch at Combemere to the iconic Kensington Oval and the excellent facilities at the University Of West Indies (UWI) which boasts an excellent oval with indoor and outdoor net facilities available.
Barbados has also been one of the top netball sides in the world for a number of years and they are currently sitting just inside the top 10; mkaing Barbados the obvious chice for many netball tours. I was invited to the netball stadium, a purpose built venue with 3 courts available, a grandstand and changing facilities. The school national finals day was taking place during my visit and I had the opportunity to watch some of the matches and see the wide array of school netball teams in Barbados. This expansive and competitive network of netball teams allows us to organise fantastic fixtures for netball tours to Barbados for teams and schools of all levels and abilities.
Hockey is another of our popular sports tours to Barbados. Since the demise of the purpose built hockey Astroturf, this is now played on a selection of the excellent grass pitches for 11 a side games and for smaller fixtures an Astroturf is also available at the UWI campus. The annual Banks Hockey Festival is an extremely popular event and will once again be held at the Kensington Oval in 2014. The government are also well into the planning process in regards to relaying a new water based Astroturf facility at the Garfield Sobers Complex.
Football is one of the most popular sports in the country, and having visited the two excellent Astroturf facilities on offer I can see why. The UWI campus has a newly laid 3G full size pitch complete with stadium, changing facilities, physio rooms and conference facilities. An even more impressive pitch awaits at the Garfield Sobers Complex where a FIFA approved 4G pitch has been laid. I would highly recommend Barbados as a football tour destination, be it solely football or as part of a multi-sports tour to Barbados. There is also the traditional grass pitch at the National Stadium which is home to the national side.
A number of other facilities are also available to cater for playing or training tours with an Olympic standard swimming centre, excellent athletics facilities, a top of the range tennis centre and playing venues for basketball, volleyball, rugby and many more.
A number of excursions are on offer when away from the playing fields and we got to experience a selection of these. One of the newer venues is the Aerial Trek Zipline Adventures where you travel over a route set 100 ft off the floor of Jack-in-the-box Gully. A stark contrast to this sky high activity is the Atlantis submarine which offers you an underwater adventure showcasing the beautiful reefs and marine animals that the island is famous for.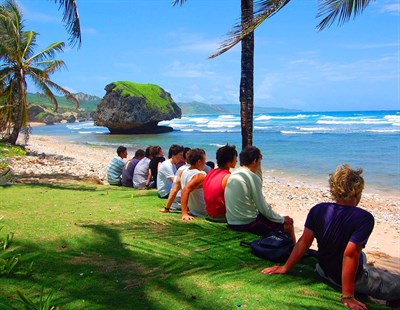 Once back on top of the water, we were lucky enough to be invited on the ever-popular Tiami catamaran for a sunset cruise. An excellent buffet dinner is served on board, with all inclusive drinks, and the boat drops anchor for a snorkelling session with a resident bale of Turtles.
For the older members of the group, and those that can still manage Rum, a tour of the Mt. Gay distillery comes highly recommended. A brief presentation and museum tour gives you an insight into the history of the nation's favourite tipple and the tour is topped off in the all important tasting area where you get to try a selection of the different Rums the company produces. A great lunch is available on site and the gift shop offers some fantastic prices on bottles of Rum as my luggage was testament to.
As a couple of novel modes of transport and excellent tour guides, the Bajan Bus and the Island Safari offer tours covering full days and half day trips.
The island has an abundance of beautiful beaches and a great way to spend a day is checking in at The Boatyard", a bar/restaurant/beach-club which offers all inclusive drink options (soft & alcoholic), beach volleyball, football, cricket, rope swings, diving boards, ocean trampoline, iceberg climb and slide, sun loungers, cabanas and much more. Later in the day the music cranks up and this serves as a great precursor to Harbour Lights, a fantastic open air beach front nightclub.
Another night time staple in Barbados is the legendary Oistins Fish Fry which is an iconic spot on a Friday night. The freshest seafood is served up along with traditional dishes, plenty of Banks Beer and Rum and a carnival atmosphere which culminates on one of the town dance floors with contrasting ball room dancing and mellow rhythms on the one side or lively Soca, Reggae and dancehall on the main stage.
I would certainly say Barbados lives up to the hype and is a fantastic sports tour destination for all ages and tastes. Burleigh Travel currently offers numerous tour options and can incorporate a number of day trips onto your tailored itinerary.
If you are interested in touring here or have any questions please don't hesitate to contact our team to chat about our first hand experiences.
Thank you to the Barbados Tourist Association and British Airways for offering me this fantastic opportunity to visit this beautiful island and top quality sports tour destination.