Barbados Tourism Authority Sports Tour Fam 2013
During June 2013 myself and my colleague Darren travelled to the beautiful island of Barbados on the Barbados Tourist Board's annual Mega Fam trip to gain a first hand experience of the sporting facilities, accommodation and activities that are on offer on this fantastic sports tour destination.
During our visit we were able to take part in a number of amazing activities and day trips that Barbados has to offer which can be included in any sports tour itinerary. A Catamaran Cruise, a tour of the Mount Gay Rum Factory, a trip to the Boatyard and a Jeep Safari Island Tour are just a few of the varied activities possible giving you a chance to experience the whole island in front of a breath taking scenery.
With so much to see and do on the island for all ages Barbados is the perfect destination for Junior, School and Adult sports teams and you are sure of a warm Caribbean welcome.
Away from exhilarating day trips the island of Barbados is home to many picturesque and beautiful white sandy beaches which are perfect for relaxing and unwinding. The west coast offers calm waters ideal for swimming and snorkeling whilst in the south you will find a more lively surf ideal for watersports.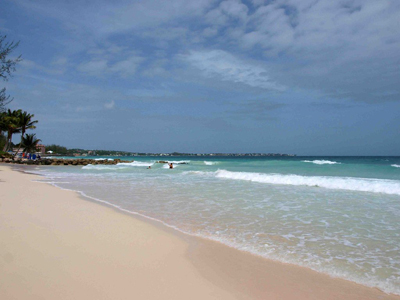 Another must do activity is a visit to Oistins Fish Fry where, particularly on a Friday night, you can enjoy food and live music. The food is the main draw with excellent fish, lobster and chicken etc all cooked in front of you whilst you sit back and listen to a blend of Reggae and Calypso music.
Whilst rugby, football, netball and hockey are all possible sports tours to Barbados, the main attraction is a cricket tour where as well as playing cricket, you can also take a tour of the Kensington Oval, the oldest cricket ground in Barbados and home to the fantastic Sir Garfield Sobers Pavilion. As a touring cricket team you are sure of a warm welcome from the locals who will talk long in to the night about the great West Indies teams of the past making your cricket sports tour to Barbados one to remember.
During my time on the island, I also visited a number of the high quality apartments and resorts that we include in our Barbados sports tour packages, which when combined with fantastic activities and picture postcard beaches will ensure your sports tour to Barbados is an unforgettable touring experience for your team.
Thank you to the Barbados Tourist Board and British Airways for offering Darren and I this fantastic opportunity to visit a wonderful island and great sports tour destination which I would highly recommend to any touring sports team or school.