Official Netball Tour Providers for England Indoor Netball Association
In recent years, we are extremely proud to have built a fantastic partnership with England Indoor Netball Association and we are delighted to announce that this it is to extend into 2016. For a 4th consecutive year we will once again be netball tour provider for the England Indoor Netball Association. After previous netball tours to South Africa and Australia, this year the Indoor World Cup is being hosted by New Zealand and we are providing a netball tour around this prestigious event.
Indoor Netball is fast becoming a popular game for men and women. It is a faster game than the traditional netball game as the court is surrounded by nets, which stops the ball from going out of play. In 2007, England competed in their first tri-nations tournament against South Africa and Australia. Since then Burleigh Travel have organised several netball tours for them.
In 2013, England Indoor Netball travelled to Johannesburg. This was the first netball tour Burleigh Travel organised for them. This saw England compete at the Tri Nations Tournament against Australia and South Africa.
In 2014 the World Cup Tournament was held in South Africa. The open team fought off tough competition to come away with the Silver.
In 2015, saw the first ever Aged Indoor Netball World Series tournaments in Brisbane, Australia. This netball tour was composed of 14 nights and playing in the tournament. England U18 6 aside did incredibly well and won Gold!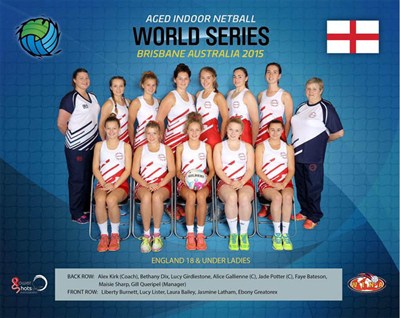 This year the Indoor World Cup is being held in Wellington, New Zealand. Burleigh Travel have organised an 18 night netball tour where the teams will compete for the title.
A netball tour is great way to get the whole team together and help build relationships on and off the court. A sports tour can provide teams with memorable experiences and often lifelong memories. Burleigh Travel can organise netball tours for 15 to 50 people from Bournemouth to Brisbane. Contact us today to see what we can offer your club. Whether you are interested in a School tour, Club tour University tour or Armed Forces tour contact us to take advantage of our knowledge and experience in this area.
We are delighted to extend our relationship with the Indoor Netball Association. We wish them luck in the tournament and look forward to organising many future netball tours for them. 
If you would like to emulate the indoor netball tour and travel on a netball tour to any of the countries they have visited or arrange any other netball tour, visit our website and complete the online enquiry form.