Best Low Cost Rugby Tour Destinations 2019
Trying to get your team on a rugby tour can often be a struggle; young rugby players have many things competing for their time and financial pressures on families can often move a rugby tour down the priority list. This guide to our best low cost rugby tour destinations will help you with ideas to get your rugby team on tour in 2019. By keeping your rugby team in the UK and visiting one of our best rugby tour destinations, the cost of a tour can be kept down making the tour inclusive and ensuring that the your young rugby players, parents and coaches can enjoy a fantastic rugby experience and have a lot of fun in the process; what better way to end this rugby season and build for the future!
The best fixture based rugby tours in the UK
The UK is full of fantastic places to base your next rugby tour. Cardiff and Edinburgh and both very popular choices, as are Gloucestershire and the South Coast. We will find you a host rugby host club and can recommend excursions and sightseeing to compliment your rugby tour and ensure a brilliant weekend.
Why not watch a Premiership or Pro 14 Match while on your rugby tour!
Another brilliant rugby tour option is to combine watching your favourite rugby team play an away game, and also play a fixture against a local rugby club. With some fantastic locations to pick from, such as the stunning South Coast to watch Exeter, the Cotswold's to watch Gloucester Rugby, Bristol Bears, Bath Rugby or Worcester Warriors, or a trip to the Midlands for Northampton Saints or Leicester Tigers. For some Pro 14 rugby action a weekend in Cardiff or Edinburgh.
Rugby Tour Festival Spotlight - The Darne Valley Easter Rugby Festival 2019
Dearne Valley is a state of the art activity centre spread over 50 acres of grass and woodland in the beautiful rolling hills of South Yorkshire. The site has a range of challenging apparatus such as zip lines, climbing walls, high ropes and a leap of faith.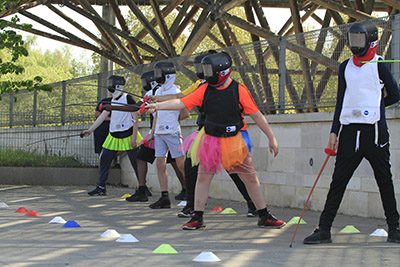 Combining a variety of activity sessions, from aerial adventures to fun problem solving initiatives, your rugby team will enjoy a program of adventure experiences which encourage them to bond and work together as a team to create a memorable outdoor experience.
On Sunday is the Dearne Valley Easter Rugby Festival. You will make your way to the impressive Doncaster Rugby Club ground after breakfast where you will enjoy a day of rugby against local and touring rugby teams. The festival is designed to give you the most amount of rugby possible under RFU guidelines.
Rugby Tour Prices Start From £115 Per Person
All rugby tour options above are some of the best rugby destination in the UK. If you are looking for an unforgettable Rugby Tour make sure you Enquire Now!