New Rugby Tour destination in Ireland - Limerick
Burleigh Travel are pleased to announce the addition of Limerick in Southern Ireland as a rugby tour destination to complement our existing Ireland rugby tour portfolio.
A University City, said to be the European city of Sport, Limerick is perched on the Northwest tip of Europe and is a sophisticated, vibrant, diverse city that still embraces its friendliness, relaxed charm and quick fire wit. Whether you are a senior rugby team looking for a social rugby weekend or a junior or school rugby team looking for a tour with training or educational element, a rugby tour to Limerick should prove an enjoyable and memorable tour for all concerned.
We can arrange for a Stadium tour of the historic Thomond Park Stadium, home to Munster Rugby and subject to fixture schedules you could also watch Munster in action.
With an abundance of Golf Courses in County Limerick, this is the perfect way to take a step back and relax from the excitement of your rugby tour to Limerick. 
For the younger tourists you may wish to embark on a activity day and take a trip to the 2 Acre site on the shores of Lough Derg, which specialises in activities such as sailing, kayaking, outdoor climbing wall, windsurfing, canoeing and dragon boat racing to name a few.
With impressive sporting facilities, the University of Limerick Sports Campus will provide you and your group with hours of activities. The possibilities include Teambuilding days, an indoor rowing tank, the Health and Performance Centre which is one of the largest and most comprehensive gyms in Ireland, test your sporting strength and endurance in the High Altitude Training Chamber. The University also plays host to a number of grass and all weather pitches to train on. Centrally located accomodaotin is also available for tose wishing to be near to all that central Limerick has to offer.
If you are interested in a rugby tour to Limerick, enquire via our online enquiry form for further information and a tailored rubgy tour quote.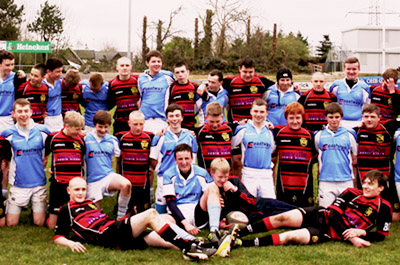 Marple RFC U15 Rugby Tour to Limerick