Netball Tours to Cyprus
Cyprus is the third largest island in the Mediterranean and is famed for it's gorgeous beaches and stunning blue seas. It is enjoys a typical Mediterranean climate with long hot summers and mild winters. Sport is flourishing on the island and it was the base for much of the British Olympic Team during their preparations for the games in Athens 2004.
You will be based in Limassol in the South. The old town is wrapped around Limassol Castle, which is where where Richard the Lionheart is said to have wed Queen Berengaria. The old town is a quirky merging of old shuttered houses and modern boutiques. It is a hive of activity with cafes, bars and restaurants dotted along the winding streets.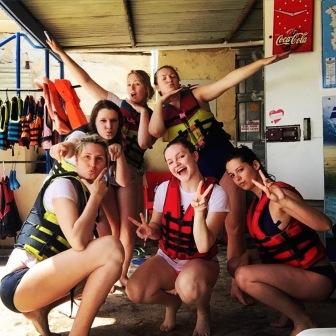 Relax on the golden sand of Dasoudi Beach, which was awarded the Blue Flag award and has a large number of water based activities. Explore the shops, bars and cafes on the 7-kilometre seafront promenade. Behind the promenade are the Roman ruins of Amathus, which include a well-preserved amphitheatre.
There are plenty of excursions and days out on this stunning island for all ages. For senior nebtall tours you could explore the vineyards and micro breweries located throughout Cyprus, enjoy the exciting nightlife (even venue to the famous Ayia Napa), explore the amazing history or try your hand at snokelling and explore the numerous sea caves. Junior and school netball tours also have plenty to keep them busy. The island has a number of very popular water parks, some fantastic boat trips, beautiful beaches and island tours.
Due to it's strong ex-pat community and large number of international schools, as well as all year round sunshine, netball is a very popular sport on the island. Playing in schools and clubs across the island we are sure to find the perfect netball fixtures for your team.
To find out more about organising a netball tour to Cyprus or any of our fantastic destinations you can speak to one of our friendly team or register an enquiry.