The island of Malta is still one of Europe's hidden treasures in terms of a sports tour destination. With 300 days of sun a year and the fact it is surrounded by some of the clearest blue seas in the Mediterranean would make it a perfect tour destination alone, but add in some of the best snorkelling and diving in the Mediterranean, its welcoming culture, fantastic food and unbelievable history and you have a destination not to be missed.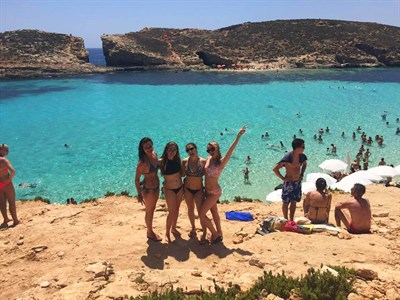 Malta's unique selling point must be its history. It has the greatest density of historic sights then any other country spanning 7,000 years. These include unique prehistoric temples, some of the oldest stone buildings in the world, Roman catacombs, medieval towns, and the extraordinary architectural and artistic legacy of the Knights of St John.
But don't worry the Island isn't stuck in the past! There are countless bars and restaurants along the harbour side and beaches, a rapidly growing music and club scene and stunning boat tours.
School and Junior netball tours to Malta
You will be based in Sliema, a stunning harbour town nestled on the northeast coast of Malta. The towns main focal point is The Strand, its beautiful promenade, which is home to bars and cafes that offers lovely views of Valletta. Sliema also boasts some of the best shopping on the island.
Slima is located on a peninsular and has a wide range of water based activities like snorkelling, diving and boat cruises. While the majority of the Maltese coast line is rocky cliffs Silma has a number of access points which has been cut out from the rocks to allow you to access the warm blue seas. There are also Lidos which have been cut out from the limestone cliffs. There is a great deal to see in the surrounding area. A visit to the gorgeous capital of Valletta has a number of stunning historical sights. A visit to the Grand Master's Palace and St John's Cathedral are a must.
Netball is growing rapidly in Malta at all ages, with a national league and clubs located across the island as well as competing in some of the smaller European Netball Tournaments. This means we can ensure you have some fantastic competitive netball fixtures during your tour.
"Thank you… the tour was extremely good with a good balance between the competitive netball and excursions. Your rep out in Malta was extremely helpful and attentive and helped sort out the Hop on Hop off bus tours of the island which was fantastic." – Lathallan School
Senior and University netball tours to Malta
We base our senior and university teams in St Julians, a wonderful little coastal town, that mixes modern bars and restaurants with quite backstreets and historical beauty.
Malta is swiftly becoming one of the major clubbing and music hubs, with a range of bars and nightclubs open throughout the week. It has grown to such an extent that many of these clubs now often play host to some of the world's most renowned DJs. St Julians is the main nightlight hub, so you are sure to always find something to do on an evening.
Valletta, Malta's match box capital, is only a short journey along the coast and is a must see. Built on a peninsular just 1km by 600m by the Knights of St John it was named as a World Heritage Sight by Unesco.
Senior netball, like its junior counterpart, has seen rapid progression over the last few years. Their domestic league continues to grow in size and competitiveness ensuring one of the best challenges for your team during a netball tour to Europe.
"We had a great time! The tour was really well organised, our coach driver was great, knew where everything was and always on time. The accommodation was great too, a really good location right next to beach as well as lots of nightlight and restaurants. The teams we played were brilliant hosts" –Royal Holloway University
If you are interested in a netball tour to Malta, or a netball tour to any of our other destinations, then please contact our team or register an enquiry.