Biography:
Having moved down from Scotland in 1996 with no interest in rugby what so ever I have now become a full convert and been heavily involved since secondary school, it all started when a friend asked me if I was free to help out with a 3xv fixture, I turned up knowing next to nothing about the rules, wearing football shorts and my old school top and trainers. (I had done a little at school but we mostly played football and cricket) I was thrown straight into the game in the front row as I was a bit larger than some of the others and absolutely loved it! I was covered in all the marks but after a warm shower, few drinks and lots of chatting I was hooked and have been playing ever since (almost 11 years now!).
After leaving school and drifting around in various jobs (Ive spent the last 10 years in construction) the opportunity to work in sport couldnt be missed. I have always been involved in sport, and the volunteering involved with running sports clubs & teams gives me a real buzz! (Just ask my wife). If Im not playing it, Im talking about it, watching it or helping to run it for others, as I now do some local coaching and try to referee. I am lucky that through my working and volunteering roles I have experienced nearly every sport imaginable at some point, some with success some without. Some of the best were when I worked with the forces for 2 years.
Despite my massive passion for sport taking up a lot of my time I still have time to pursue my love of travel & culture. I'm also looking to learning new things, and love visiting museums and historical places. Sometimes a beach holiday is nice though.
I also love working with people. I like to help my fellow man but most of the time I just like to talk.
I recently got married to Emma-Jayne who shares my passion for travel but definitely enjoys more sedate holidays to me.
Sport has given me loads of opportunities and new lifelong friends so the opportunity to give that experience to others through working with Burleigh Travel is amazing.
Favourite Sports Tour Destination:
Scotland, always like coming home and enjoying myself
Most Memorable Travel Experience:
"All of them! Although I cant remember too much about any of them.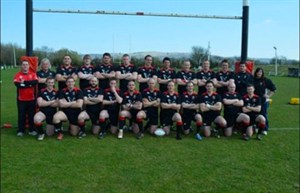 Scott playing for Cheltenham North RFC
Scott travelling in Europe
Fact File:
Nickname: Fester
Favourite Sports: Rugby & Football
Best Achievement: Sport related – Playing county level cricket & football as a junior, winning combination cup in rugby
Favourite Sports Team: Falkirk FC (Football), Cheltenham North RFC (Rugby), Scotland for both
Favourite Sports Personality: Ian Holloway, what a laugh!
Countries Visited: Ireland, France, Spain, Italy, Malta, UK & islands hopefully with more to come.
Random Fact: Ive gone a whole rugby season without getting injured once… Ive broken my nose 6 times so far.
Scott's Burleigh Travel Inside Line:
"Dont think what if? Try everything once!…twice if you like it"