May Newsletter
Welcome to our May Newsletter. It has been a busy few months here at Burleigh Travel with a vast majority of our touring teams going away over the Easter break, and all of our rugby festivals taking place. 
Mini and Junior Rugby Festivals 2017
As the dust settles on another successful rugby festival season we take a look at some of our festivals and the dates for 2018.
The Bournemouth Mini and Junior Rugby Festival
Once again this fantastic event was a sell out! With our touring teams filling up Sandford Holiday Park there was a great touring atmosphere all weekend, at both the park and two festival sites. The weather was stunning, with gorgeous sunshine all weekend. The fantastic weather was matched by the rugby on display with some great matches across all of the age groups!  
Aylesford Bulls Rugby Club brought six teams (U7s to U12s) and nearly 280 people to this years festival, and it was fantastic to hear they had such a good time:
"On behalf of Aylesford Bulls Rugby Club I want to extend a massive thank you to you all for your assistance in making our tour one of the best we have ever had. It ran without a hitch and everyone has complimented how well organised it was, how great the complex was for all their needs, what fun and how well the festivals went plus you gave us sunshine!!! We all had 2 days of great rugby, filled with lots of fun, trophies, tries and tackles!!  
We will in no doubt not hesitate to consider Burleigh Travel in the future!"
The Gent Festival
This event is always hugely popular with colts teams, often on their first big tour abroad, and this year was no different. With a number of UK teams on tour with us this years event offered some fantastic competitive rugby and a great atmosphere with lots of social events and a welcome Belgium beer night.  
Llantwit Major RFC U16s attending the Gent Festival this year before the teams disbands at the end of the season. It was therefore lovely to hear they had enjoyed their tour:
"We had a great time! We all really enjoyed the festival and the atmosphere was excellent. I would definitively recommend the event and the tour as a whole." 
You can see all of the dates for our 2018 rugby festivals here. 
Old Wykhemists Tour Report from Portugal
The Old Wykehamists returned from Lisbon with their unbeaten European record intact and relations with Portugal strengthened after two fine games of football and three days of merriment in the capital. You can read their full tour report here.  
October Half Term Tours
While the Easter break is often popular with younger teams, it can be hard for those with GSCE's and A-Levels to have a break from their studies. The October half term provides the perfect opportunity to take your students away on tour, without impacting on their preparation for their summer exams. Now is the perfect time to begin planning an October tour.
For a long weekend tour we would recommend destinations like Spain, Holland, Ireland, France or Belgium. Many of these allow you to combine a number of sports into a single tour. You can find out more about these fantastic destinations in our Half Term Sports Tour blog.
School tours 2018
To make sure a tour to destinations such as Barbados, Australia, Canada or South Africa are a huge success, and create lifelong memories for your players, a lot of planning is involved. We have run dozens of tours to these fantastic locations and our advice is always to start planning early! You will benefit from the best rates with airlines and hotels, make sure the itinerary is perfect and ensure the tour runs without a hitch! 
Barbados
You would be hard pressed to find a destination more beautiful then Barbados! The island itself is stunning with gorgeous beaches and clear blue seas, our hosts are renowned for their hospitality and the excursions, such as swimming with turtles, are unforgettable.
"The opposition were so friendly, our hotel was ideal and the transport was excellent. Swimming with the turtles was an unforgettable experience!" - Ryde School netball tour to Barbados
Australia 
Australia has some of the world's most famous landmarks such as the Sydney Harbour Bridge and Opera House, Ayers Rock and the Great Barrier Reef. There are a range of cities in which to base your tour such as Melbourne, Sydney, Perth, Brisbane and Cairns.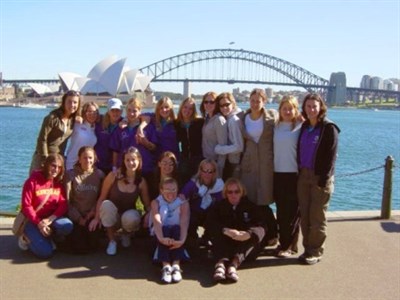 "I can safely say that the Tour to Australia was the best trip I have ever had the privilege to experience!" - Chew Valley School hockey and rugby tour to Australia
South Africa
South Africa is one of the world's most beautiful and diverse countries with landscapes that range from deserts and mountains to beaches and wine valleys. Its wildlife is just as varied with lions, hippos, elephants, whales, dolphins and penguins.
"I just wanted to thank you for what was the trip of a lifetime for everyone involved! Highlights included Table Mountain, shark diving and sporting the 'Big 5' on safari." - Banbridge RFC rugby tour to South Africa
Canada
Canada is a wonderful country to tour to and has some truly stunning cities and landscapes to explore. Climb the CN Tower, visit the Niagara Falls and sail on the Maid of the Mist, or check out a live baseball or ice hockey match.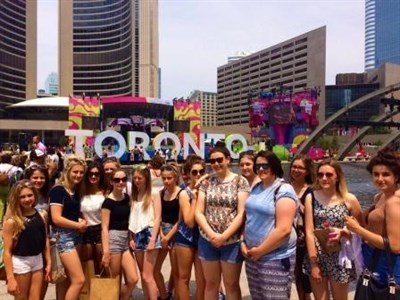 "This tour would never have been possible without the hard work and dedication of your fantastic team. I cannot thank Burleigh Travel enough for a once in a lifetime experience." - Ysgol Y Strade netball & rugby tour to Canada
Wanstead RFC tour to Croatia
Wanstead RFC have just returned for their rugby tour to Croatia. They took over a senior team and a vets team, and from the sound of their tour report it sounds like they all had a fantastic time! You can read their full write up here.
The RPA Awards
We were delighted to once again attend the RPA Awards in London last week. The event helps to raise money and awareness for the Restart Rugby Charity which we have been proud to help in the past.
It was a very special night as Dan Carter was introduced into the Hall of Fame.
Jimmy Gopperth picked up Player's Player of the year, and Owen Farrell was voted England Player of the year! With so many of our staff still involved in rugby, either as players or coaches, it was great to rub shoulders with some of the games top players. Meeting the likes of Dan Carter, Louis Picamoles and Simon Shaw was a great expereince.