The best destinations for educational expereinces
In this article we are looking at which of our sports tour destinations offer the most in educational content. A sports tour obviously revolves around sport, but there are so many additional positive factors that can benefit students. 
Our School sports trip have already shown they offer safety and educational benefits by being awarded the Learning Outside the Classroom Quality Badge. The Badge is designed to make it easier for teachers to identify providers of quality educational visits and school trips. Organisations will display the LOtC Quality Badge as a signal to schools that their venue has met required standards.
Recent studies have shown that school trips can have a huge benefit to students. Ofstead's 'Learning outside the Classroom' (2008) study found that "learning outside the classroom contributed significantly to raising standards and improving pupils personal, social and emotional development." 'Every Experience Matters' (2008) supports this and found that "children engaged in LOtC achieved higher scores, had improved physical fitness and motor skills development, improved confidence and self-esteem, developed leadership qualities and increased their social competence."
Below we look at some destinations that offer an amazing sporting experience but also have a huge educational benefit to your pupils and players.
School sports tours to Germany
Berlin has developed into one of the most vibrant and cosmopolitan cities in Europe. It offers a huge amount in terms of educational benefits such as art, language and in particular history. Modern German history is one of the most studied topics at school for both GSCE and A-Level students. A recent article by the Guardian found that out of the top 10 most studied topics in A-level history three were about Germany.
The Brandenburg Gate
It would be hard to scratch the surface of what Berlin has to offer during a trip to this remarkable city. With over 150 museums and numerous original landmarks there is plenty for your team to see during their time in Germany. Visit the Reichstag Building, the Brandenburg Gate, Berlin Zoo or Olympic Stadium. There are numerous tours and historical displays such as Topography of Terror and the Memorial of the Berlin Wall.
 Checkpoint Charlie is one of the most famous crossing points of the Berlin Wall
Cologne is home to some stunning Gothic architecture and is regularly voted the country's single most popular tourist attraction. Cologne's towering landmark, the Cathedral of St. Peter and St. Mary, is a masterpiece of High Gothic architecture. One of the largest cathedrals in Europe, it was started in 1248 and is considered the most ambitious building project of the Middle Ages. The rest of the city is a wonder to explore with over 100 galleries, 36 museums, a stunning old town and some beautiful churches.

We can arrange football and hockey tours to Germany.
School Sports Tours to France
France is a wonderful destination for all types of tours and trips. Its capital, Paris, is one of the most famous cities in the world and is home to some truly iconic buildings such as the Eiffel Tower, Louvre and Notre Dame Cathedral. Paris is not the only option available to you. We have run tours to Lille, Toulon, Biarritz and Toulouse.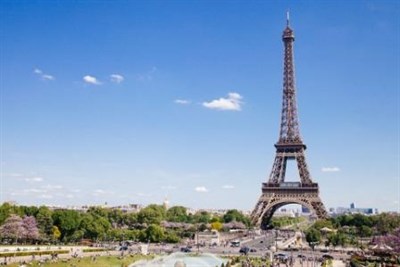 The world famous Eiffel Tower
France is a very convenient location with a very short journey across the Channel by either ferry or through the Cannel Tunnel. Once there it really does offer an unforgettable time. Paris is full of wonder and excitement. The city itself is a buzzing hive of culture, art, music and food that you would expect from one of Europe's most iconic cities. But it also has a feeling of community with local shops and markets, cafes and cobbled lanes. 
Notre Dame Cathedral 
If the cultural and language benefits of visiting France are not enough for you to plan your next school sports trip here, then the seemingly endless array of activities and excursions will! Explore all the wonders held within the Louvre, such as the Mona Lisa, climb the Eiffel Tower, visit the Notre Dame Cathedral or the Arc de Triomphe, or explore the Grand Palace. Outside of Paris there is the Basilique Saint-Sernin in Toulouse, Palais des Beaux-Arts de Lille one of France's largest museums, watch a star studded rugby match in Toulon or try white water rafting rapids in Biarritz in the nearby Pyrenees Mountains.
We can arrange football and rugby tours to France.
School Sports Tours to Malta
Malta wouldn't spring to many people's minds when thinking about the top education destinations but it actually has the greatest density of historic sights then any other country in the world, spanning 7,000 years!! These include unique prehistoric temples, some of the oldest stone buildings in the world, Roman catacombs, medieval towns, and the extraordinary architectural and artistic legacy of the Knights of St John.
Grand Masters Palace
The Malta at War Museum, which is housed in an 18th century army barracks, has a brilliant collection of artefacts and memorabilia. The site sits on top of a massive underground rock-cut air raid shelter which offered refuge to hundreds of people. This shelter has been restored and forms part of the museum experience. It also features numerous period newsreels and sounds, hands-on interpretation and multilingual audio-guides.
St Paul's Cathedral
Malta has an unbelievable number of archaeological sites. The Hypogeum, a labyrinth of underground chambers, is one of Malta's most amazing attractions. The Islands' temples qualify as UNESCO World Heritage Sites and are open to the public. There are megalithic monuments, Bronze Age dolmens, Punic tombs, remains of Roman Villas and traces of prehistoric man. Malta and Gozo's temples are thought to be the oldest free-standing buildings known to man. 
The island is also renowned for it's gorgeous blue seas and amazing snorkeling. There are ship wrecks, caves and reefs to explore, as well as a huge range of marine line from exotic fish to turtles and octopus. 
We can arrange football and netball tours to Malta.
Click here to see all of the destinations we offer for school sports tours or make an enquiry so that we can send you some additional information.