Senior Rugby Tour to Cork
During a senior rugby tour to Ireland the club were without doubt able to embrace the Irish heritage and culture and enjoy the friendly welcome and hospitality of the locals and the world-renowned Irish Craic present in popular nightlife areas such as Patrick Street. This, alongside the stunning scenery and coastline and a host of activities available in the seaside City of Cork, make it an ideal rugby tour destination for rugby teams travelling from the UK.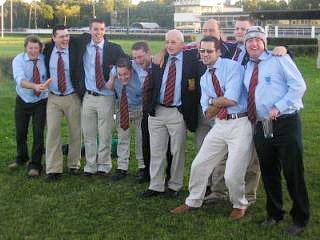 During their 3 night stay, the tourists enjoyed two rugby fixtures against local teams; Dolphin RFC and Ballincollig RFC – privy to superb hosts, competitive rugby and a true experience of Irish club rugby.
Wirral RFC 4th Team: Rugby Tour to Cork Highlights!
The rugby tour to Ireland was thoroughly enjoyed by the group, with particularly memorable highlights such as:
Experiencing and enjoying the traditional Irish craic
Fixture v Dolphin RFC & Ballincollig RFC: excellent hosts & the traditional Irish evening at Dolphin was very enjoyable
Lively nightlife around Patrick Street: well researched during the tour!!
Tour tradition: the usual formalities and lively banter
If this is a tour that appeals to you and your rugby club, please contact us through our online enquiry form and we will happily provide you with the information you need.